Transfer right move for Timming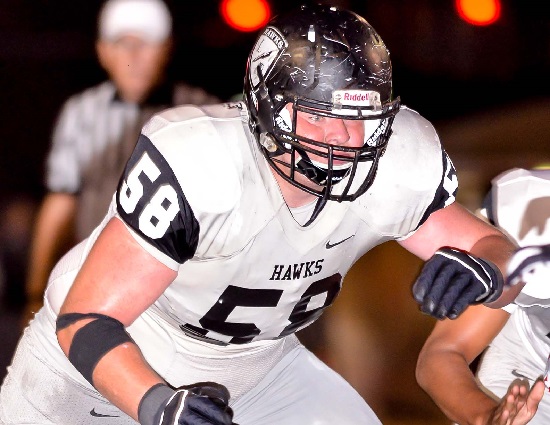 One of the hardest things in life for anyone is to make changes. There is comfort in staying with the status quo. For Lakota East offensive lineman J.T. Timming stepping out of the box and into a new frontier has paid big dividends but not without some blood, sweat and tears.
The 6-foot-3, 295 pound Timming transferred from Division IV Monroe to Division I Lakota East last fall for his junior season. He would become an integral part of a Thunderhawks squad that went 9-3 in 2014. Now he heads into his senior year loaded with confidence on a team that is destined for big things once again.
A difficult journey now looks like a great decision. "The toughest part about transferring from Monroe was leaving a place I have been my whole life and leaving all of my friends. It was a very hard decision to transfer but I had to do what was best for me. The best part about transferring to Lakota East was meeting all these new people and playing against some of the best football players in Ohio," Timming said.
Timming was named First Team All-GMC and Honorable Mention All-Southwest District for his on-field performance as a junior. He parlayed his hard work into two college offers one from Georgia State and the other from James Madison. Just recently Timming verbally committed to continue his football career in Harrisonburg, Virginia at James Madison.
Adjusting to playing football versus a higher level of competition has had a learning curve for the affable Timming as he strives to make himself better. "This off-season was about speed. After going through last season and looking back I realized that if I was faster and stronger, I would be able to get more of the blocks on linebackers," he stated.
"I love how hard we work! When we are in the weight room the team pushes others and we compete to get better day by day! The bar get raised each day, and if we have a step backwards we always fix that." That statement from Timming tells you all you need to know about the character of the 2015 Thunderhawks. This program is starting to peak under head coach Rick Haynes and this team is getting ready to write its chapter in that success.
"The offense is going to be big this year. We are returning eight starters. Four of them are on the offensive line – Dalton Strunk (6'6", 275), Nick Hofmeier (6'2", 270), Nick Finley (6'3", 275) and myself. Three of our four main ball carriers also return – quarterback TJ Jemison along with running backs Tyler Glenn and Kaleb Lepper. We are really going to pound the ball on the ground and do what we do best running the triple option," says Timming who embodies the "smash-mouth" identity that the Lakota East offense has taken on in Haynes reign. Lakota East won seven of its nine games a year ago by 17 points or more.
As good as all of that sounds the Thunderhawks are still second best in their own school district. Rival Lakota West took down East twice in the last the three weeks of '14 including knocking the Thunderhawks out in the second round of the playoffs. Having to live with that all off-season hasn't been easy for Timming and his teammates. "We have used those two losses to Lakota West as motivation, especially for our senior class. That is one thing that we plan on changing this season, in Week 10 on October, 30th. But (for now) we just need to stay focused and go week by week playing the best we can," Timming adds.
FINAL TAKE: What stands out about Timming and the transition is the package he brings off the field. He is a believer. He knows this team has a chance to be special and is pushing his teammates to also "buy in." With hard work and diligence they can achieve their goals. For the betterment of the team is where Timming's heart lies. His selflessness makes him an invaluable asset.
On the field Timming has used strength and size to earn his honors. If he can get into the second tier of the defense and make quality blocks after an off-season of working on his speed Timming becomes All-State caliber.
James Madison gets a steal with this o-lineman. The best days of football are still ahead for Timming. He is going to eat up college football. His drive will be pushed hard at the next level and all signs point to Timming handling the adversity with flying colors.