Bombers have a loaded arsenal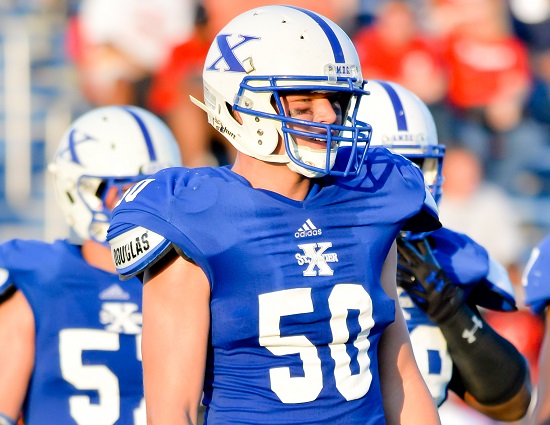 With all the injuries that St. Xavier endured in 2014 it is hard to believe that they won 10 games. That is a testament to head coach Steve Specht who got his 100th career win in last year' regular season finale. The bumps and bruises meant more people played and that should benefit the Bombers come August.
The offense is loaded with talent. This a squad that could average 30 points a game. That is saying a lot with this team's schedule. St. Xavier can bring firepower at opponents in all directions. The Bombers will be able to spread the wealth and that will make them hard to stop.
The St. Xavier defense has to replace some very dependable and vital cogs. The front seven has to find its identity with a large contingency of first year players vying for snaps. Competition will be good but its no substitute for experience.
With an offense capable of putting points on the board in bunches St. Xavier should be able to use that to its advantage. Putting foes in the position to have to throw the ball will play into the Bombers hands. The one major asset to the defense is the secondary. Giving this group the opportunity to make interceptions to get the ball back into the hands of the offense will lead to many victories.
Division I, Region 2
2014 RECORD: 10-3, 2-1 GCL South
COACH: Steve Specht (102-35 @ St. Xavier, 11 years, 102-35overall)
HONOR ROLL
Hayden Specht, Sr, DB – One of just two First Team All-GCL South defense players that the conference returns from '14. Specht was in on 55 total tackles with a fumble recovery and a 42-yard interception return for a touchdown as a junior.
Noah Davis, Sr, TE – A huge target at 6-foot-4 and 235 pounds Davis had 20 receptions for 275 yards and four touchdowns a year ago. He earned Second Team All-GCL South honors for his work. Davis has verbally committed to Michigan State.
Matt Bockhorst, Jr, OT – A stud on the o-line Bockhorst was a Second Team All-GCL South selection as a sophomore. He has offers from Boston College, Cincinnati, Louisville, Toledo and Vanderbilt.
Alexander Deters, Sr, OL/TE The 6-foot-5, 230 pound Deters was a Second Team All-GCL South selection as a junior.
Sean Clifford, Jr, QB – It has been a very good summer for Clifford who verbally committed to Penn State. Despite injuries he still managed to throw for 832 yards, run for 314 more with nine passing and two rushing touchdowns in nine games as a sophomore.
J.P. Bitzenhofer, Sr, DB – The Bombers top returning tackler from a year ago. Bitzenhofer was named Second Team All-GCL South after recording 71 tackles with two interceptions in '14.
Andrew Homer, Sr, WR/OLB – The 6-foot-6, 210 pound Homer is versatile and offers Specht option to use him on offense and defense. He had 15 reception for 131 yards and recorded a sack as a junior, Homer has verbalLy committed to Miami (OH).
Brody Ketron, Sr, ATH – Ketron is a factor in the secondary and as a return man. He has on offer from Valparaiso.
OTHER RETURNEES
Quarterbacks Daniel Keyes and Matt Wittrock both saw action last season. Wittrock threw for 376 yards in eight games while Clifford was out. Senior lineman Brian Kemper along with Bockhorst and Deters provides dependability in the trenches. A healthy Sean Prophit is going to make a huge difference in the St. Xavier backfield. He ran for 224 yards and two touchdowns in three games before falling to injuries last season. Junior receiver Colton Paul will be one of the city's most pleasant surprises in '14. He is poised for a big year after catching 10 passes for 141 yards and two touchdowns in '14.
The defensive line and linebacking crew will see plenty of new faces. Seniors Mike Gerbus and Mike McCuen are the only two d-linemen with experience McCuen registered three sacks and 31 total tackles a year ago. Linebacker Elijah Payne will provide leadership. He was in on 48 tackles with a sack as a junior. The secondary is the strength of the Bombers defense and Griffin Buczek is a large reason for that.
NEWCOMERS
Sophomore Cameron Specht offers the Bombers an option as a runner or receiver out of the backfield. He ran for 23 yards and a touchdown in St. Xavier's playoff win over Central Crossing in his only varsity appearance as a freshman. Senior Sam Ankenbauer will have his moments as a receiver. Classmate Matt Hall will step in at linebacker to fill voids left by graduation at the position.
PLAYOFF HISTORY
(21 appearances, 35-19 overall) – 2014, 2013, 2012, 2011 (Regional Champions), 2010, 2009, 2007 (State Champions), 2006, 2005 (State Champions), 2004, 2002, 2001 (State Runner-up), 2000, 1999, 1998 (State Runner-up), 1997, 1994, 1993, 1992 (State Runner-up), 1987, 1981
2015 SCHEDULE
Only four home games and none after October 9th for St. Xavier. LaSalle and Elder will come to Ballaban Field. The Bombers will play Covington Catholic and Moeller at Nippert Stadium on the University of Cincinnati's campus. Three games versus big public schools will be at Colerain and Warren Central (Indianapolis) and hosting Mentor.
DOUBLE DIGIT VICTORIES
Six times in Steve Specht's 11 seasons as head coach the Bombers have won 10 games or more.
NOT SO HIGH FIVE
In the last seven years St. Xavier has lost five games or more four times. In three of those season the Bombers have made the playoffs.