Springboro eyes playoffs again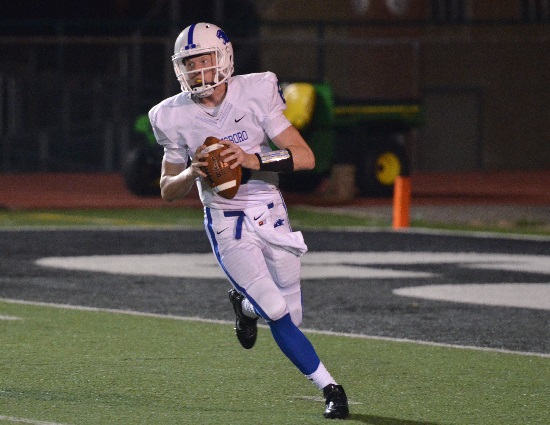 Springboro allowed just 8.0 points per game in 2014, shutting out three opponents and holding eight of 11 to a touchdown or fewer en route to its third straight playoff appearance.
With the majority of its front seven on defense returning, parlayed with the second-best passer in the entire GWOC last year coming back for his senior season in Elijah Cunningham, the Panthers could be bound for the postseason again this fall.
Springboro surrendered just 164.9 yards per game last season – an average of 88 on the ground and 77 in the air.
Cunningham threw for 1,917 yards and has 3,055 passing yards for his career.
The Panthers fell, 7-0 to Lakota East in the first round of the playoffs in 2014 and have their sites set on a deep playoff run this year.
Division I, Region 2
2013 RECORD: 9-2, 5-0 GWOC South
COACH: Ryan Wilhite (63-30 at Sprinboro, nine years, 63-30 overall).
HONOR ROLL
Elijah Cunningham, QB, Sr. – The Class of 2016 standout is receiving multiple Division I offers. He was 128 of 214 (59.8 percent) for 1,917 yards, 22 touchdowns and just six interceptions last regular season. He also ran in seven TDs on 86 carries for 364 yards.
Justin Rigg, TE/DE, Sr. – Caught 23 passes for 256 yards and four touchdowns in 2014. The 6-feet-5 University of Kentucky commit is known for his physicality and his long arms.
Jon Floyd, DL, Sr. – Recorded 67 total tackles including a pair of sacks, and he also forced a fumble last season.
Nic Thomas, ILB, Sr. – Was second on the team in total tackles last regular season with 61. He notched two sacks, two forced fumbles and two fumble recoveries.
Nick Kovacks, WR, Jr. – Finished second on the team in receiving yards (501), catching 36 passes for five TDs as a sophomore. Also was used to return a pair of kickoffs.
Danny Welsh, OL – The 205-pound third-year starter keys an offensive line that helped lead Springboro to a 32.4 points-per-game average.
OTHERS
Liam Foley, RB, Jr. – In eight games, he rushed 45 times for 270 and six touchdowns and should be used more in a ground role this season.
Jordan Seifart, WR/SS, Jr. – Another receiving option on a Panthers team that should use multiple receiving options.
Nay'Juan Ewing, WR/DB, Jr. – Like Seifart, a fellow junior who can help in both the passing game and in the secondary.
Levi Ethridge, WR/OLB, Sr. – Was credited with 24 tackles in 2014, and ran the ball three times.
SCHEDULE
Springboro's schedule, including the chronology, remains the same as in 2014. The Panthers will face Centerville, Franklin and Beavercreek all on the road in Weeks 2-4, but four of the team's final six contests will be at home.
PLAYOFF HISTORY
(six appearances, 3-6) – 2014, 2013, 2012, 2005, 2004, 1999
JUST OFFENSIVE
Springboro was second in the GWOC in offense last year, rolling up an average of 377.8 yards per game in the regular season. The Panthers were second only to Wayne in passing yards (1,933).
NONE SHALL PASS…OR RUN
Springboro held opponents to 769 yards passing in the 2014 regular season, the second-lowest total in the GWOC. Foes also only managed an average of 2.9 yards per carry.