GMC Prepares Players For Next Level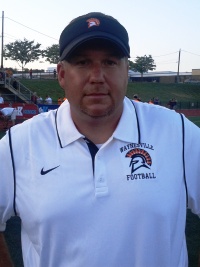 Teams in the Greater Miami Conference have a reputation of preparing players for the next level. Colleges swarm to Northern Cincinnati looking for talented players from the GMC and this season is no exception. The 2016 class is full of student-athletes that will be playing on various college levels next season.
Just recently Colerain ATH DeShaunte Jones narrowed down his list to Louisville and Cincinnati. Jones' was a 2nd team All-SW District selection after totaling over 2,400 all-purpose yards. The young and inexperienced Cardinals started off the season slow, but with the help of Jones managed to finish strong, going 8-4 and winning the conference. Jones' teammates tight end Nathan Niehaus and linebacker Darryl Gardner both have verbally committed. Niehaus has decided to attend West Virginia next fall, and Gardner will head to Toledo.
Lakota East have two offensive line that have committed. J.T. Timming is continuing his football career at James Madison, and Dalton Strunk will stay close to home and attend Miami University.
Down I-75 from Lakota East, Lakota West defensive back Sean Mahone is still in the process of making a decision. He has offers from West Virginia, Purdue, Virginia, Kentucky, Miami University, Toledo, Bowling Green, Ohio University, Western Michigan and Eastern Michigan. He ranks 32nd in the state, and 50th among defensive backs in the nation, according to Rivals.com.
Other defensive backs in conference looking to play at the next level are Middletown's Vince Calhoun and Eethan Edwards, Fairfield's Mitchell Larsen, Hamilton's A'Shon Riggins, Mason's Ty Sponseller, and Sycamore's Jovon Cobbs. Calhoun is considering Eastern Kentucky, Eastern Michigan and Illinois. Both Cobbs and Edwards have verbally committed to Morehead State. Larsen will head to the Mid-American Conference to attend Ball State. Riggins has verbally committed to Indiana, and Sponseller will stay home and play at Cincinnati.
The Bearcats have gotten ahead start on the Class of 2017 and sent offers to two juniors in the conference. Both Sycamore running back Ra'Von Bonner and Colerain linebacker Kyle Bolden have received offers from Cincinnati. Bolden also has offers from Illinois, Indiana, Marshall and Toledo. Bolden is ranked as the 24th best player in the state among the 2017 class.
Just this past week Middletown offensive tackle Matt Muterspaw decided to continue his career with Walsh University. Muterspaw is part of an offense that is hoping to turn the corner this season and help improve the Middies from a year ago.
Once again the GMC is full of talented football players that are going to get the opportunity to play at the college level. This season the list consists of mostly defensive backs so it should make for a very difficult time for opposing quarterbacks.