Playoff Preview: Elder at Mason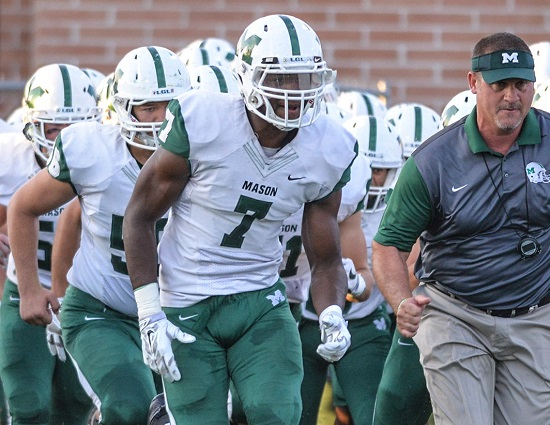 It's the first week of the OHSAA playoffs as we look at one of the most anticipated matchups in Cincinnati. In a titanic Division I, Region 4 battle, No. 3 Mason hosts No. 6 Elder in an affair where emotions are sure to be running wild.
It is the first ever meeting between the two schools. The victors will move on another week in the and play the winner of Sycamore at Lebanon in round two.
Neither team is a stranger to the playoffs. Mason is making its second straight trip and seventh overall. The Comets are one of four Greater Miami Conference teams to make the playoffs, a feat that has happened only one other time for the conference.
Elder is in the postseason for a fifth consecutive year and the 19th time for the program. The Panthers won Division I state titles in 2002 and '03.
Expect another great GCL South-GMC matchup out of this one, as this game should go wire-to-wire in a battle of defense.
ELDER PANTHERS (6-4) at MASON COMETS (6-4)
Kickoff: 7:30 p.m. – Atrium Stadium, Dwire Field
Follow on Twitter @TSFootball
PLAYERS TO WATCH: Senior defensive back Zach Lyons marches the Panthers defense into battle, leading his team with 78 total tackles and three interceptions. Sophomore Spencer Bono anchors down the defensive line, hoping to improve on his already impressive first year at the varsity level. Bono has six sacks, 43 total tackles and two forced fumbles. It doesn't seem like he's going to stop mauling opposing offensive lines anytime soon.
On offense, quarterback Danny Nieman has thrown for 1,406 yards this season. Senior receiver Adam Schwallie has reeled in 43 receptions for 577 yards and four touchdowns. Those two will need to connect early and often if they want to move on to next week.
Matt Sora has been the powerhouse of the Comets offense all season long. He leads the team with 970 yards and nine touchdowns rushing. Zaid Hamdan and Alex King have been studs on the Mason defense, recording 12.5 combined sacks between them. Junior quarterback Jake Harris, who took over after Senior Preston Hutchinson was injured earlier this season, looks to have a big game. Harris, who will be starting his first playoff game, has played well after taking control of the offense, throwing for 413 yards and three touchdowns in just four starts.
TEAM TRENDS: Mason has held opposing offenses to an average of 15.5 points per game over their last four contests. On the flip side, the Comets have only scored an average of 18 points per game during that span. Three of those four games were decided by seven points or less. They will need to get their offense going if they want to compete against an Elder offense that is averaging over 20 points per contest.
Both squads suffered losses last week. Each school will be looking to bounce back and notch a statement win and continue to focus on the path to Columbus.
ELDER'S KEYS TO VICTORY: Get an early lead and hold the Comets when on defense. Elder has yet to lose a game this season where they led at halftime. Their defense has only given up 8.5 points in their wins. If they can jump out on top in the first half, it may fluster the Mason offense enough into making mistakes while trying to play catchup. Those could be turnovers in which a calm Panthers team could capitalize on.
MASON'S KEYS TO VICTORY: Hold onto the ball. Last week against Sycamore, Mason led the stat sheet in rushing yards, passing yards, time of possession, and even had fewer penalties. It was turnovers that cost them though. If they can maintain ball security and establish their run game, which averages 218 yards a game, they should be able to control this one.
Prediction: MASON 21, ELDER 17