Milford Holds Off West Clermont In ECC Battle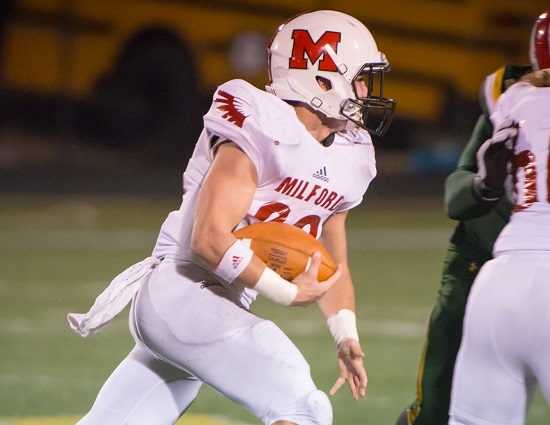 Milford RB Cameron Kells (photo by Mitchell Cooke/TriStateFootball.com)
CINCINNATI, OH – Milford and West Clermont were involved in a defensive showdown last night that ended with the Eagles on top.
It was the Eagles that struck first, scoring six points on a two-yard touchdown run by Cameron Kells on the opening drive of the game. Milford went for the two-point conversion after, but was stopped on a failed pass play.
West Clermont evened things up later in the first quarter thanks to a Jacob Kilgore 34-yard touchdown run, and a Cameron Null PAT gave the Wolves the 7-6 lead.
Both teams traded defensive blows after that, as West Clermont intercepted Milford with just 30 seconds to go in the first, and Milford forced a turnover-on-downs on the ensuing drive.
Milford then drove 73-yards, and capped the drive with a 21-yard touchdown run by Kells. The Eagles were able to convert the 2-pt. conversion this time to make it 14-7 in favor of Milford going into halftime.
After a big 28-yard kickoff return to open the second half, West Clermont gave the ball to Milford on a fumble on their first play of the series. Milford and Kells once again seized the opportunity and scored on a 16-yard touchdown rush by Kells to make it 21-7 after a Grace Ertel PAT.
Later in the third quarter, West Clermont forced a Milford fumble and recovered it on their own six-yard line. Milford was then able to record a safety, adding to their lead by two points.
Down two scores in the third quarter, West Clermont needed a big play to keep them in the game. That's when Donte Turner Jr. intercepted the Eagles on the Wolves' nine-yard line and returned it 39-yards.
The big defensive play set up West Clermont's next score, which was a 23-yard Hunter Eads pass to Trevor Grant. The Wolves ran for two following the touchdown, and reduced the deficit to just eight points as the third quarter ended.
The Wolves were able to score again with 3:15 left in the game to make it 23-21 Milford. West Clermont decided to go for the two-point conversion to tie the game, but were stopped short.
West Clermont forced Milford into fourth down with two-yards to gain with just 2:20 left in the game, but Milford was able to convert on a four-yard rush to secure the 23-21 win.
The star of the game was Milford running back Kells, who finished with 194 rushing yards on 33 carries with three touchdowns.
While Kells shined the brightest, the defenses also recorded big games. West Clermont had three tackles-for-loss, one fumble recovery and two interceptions, while Milford had three sacks, nine tackles-for-loss and a fumble recovery.
SCORING BY QUARTERS
Milford: 6-8-9-0-23
West Clermont 7-0-8-6-21
SCORING PLAYS
M: Kells 2-yard TD run (2-pt. FAILED)
WC: Kilgore 34-yard TD run (Null KICK)
M: Kells 21-yard TD run (Ayler 2-pt. RUSH)
M: Kells 21-yard TD run (Ertel KICK)
M: Team SAFETY
WC: Eads 23-yard TD pass to Grant (Gambrell 2-pt. RUSH)
WC: Eads 49-yard TD pass to Grant (2-pt. FAILED)
RECORDS: Milford (7-2, 5-1); West Clermont (4-5, 3-3)
UP NEXT: Milford hosts Turpin (6-3, 4-2); West Clermont visits Kings (8-1, 6-0)