Blitz 5 Top 25: New teams arrive in ranks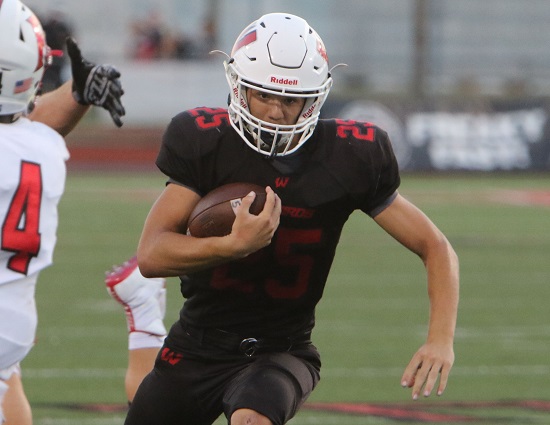 We have hit the midway point of the regular season and the Blitz 5 Top 25 presented by TriStateFootball.com has been shaken at the bottom.
The Top 10 teams in the poll have remained incredibly consistent with just slight movement among those squads. Meanwhile, the pollsters have been patient, giving the lower ranked teams ample time to prove themselves, but most have struggled. Taking one step forward and then one step back. For that reason, the rankings find five new teams entering the poll this week – Ross, Little Miami, Franklin, Clinton-Massie and Conner.
The highlight of the schedule on Friday night is #2 Elder at #1 St. Xavier. It is the historic 100th meeting between the two schools. It's also one five games pitting ranked teams against each other.
In the middle of the poll sits a cluster of GMC teams. The conference rivals have made it a mess to rank them. Sycamore beat Princeton, then lost to Mason, who lost to Lakota West, who lost to Princeton. The GMC has played 15 games of which six have been decided by seven points or less (40 percent). The league has eight teams ranked between third and 17th.
1. St. Xavier (5-0, 1-0) – LAST WEEK: won at then #24 Moeller (1-4, 0-1) at Nippert Stadium, 27-24; NEXT UP: 10/04 – #2 ELDER (4-1, 0-0)
2. Elder (4-1, 0-0) – LAST WEEK: beat then # 23 RYLE (3-3), 49-7; NEXT UP: 10/04 – at #1 St. Xavier (5-0, 1-0)
3. Colerain (4-1, 3-0) – LAST WEEK: at Middletown (1-4, 0-3), 41-14; NEXT UP: 10/04 – #12 SYCAMORE (3-2, 1-2)
4. Fairfield (5-0, 3-0) – LAST WEEK: won at #9 Lakota West (3-2, 2-1), 33-7; NEXT UP: 10/04 – #14 LAKOTA EAST (3-2, 2-1)
5. Winton Woods (4-1) – LAST WEEK: lost to ST. EDWARD (4-1), 51-31; NEXT UP: 10/05 – at Christian Brothers (MO) (4-1)
6. Covington Catholic (6-0, 1-0) – LAST WEEK: beat COOPER (3-3, 0-1), 45-6; NEXT UP: 10/04 – BOONE COUNTY (2-4, 0-1)
7. La Salle (4-0) – LAST WEEK: won at Buffalo St. Joseph's (NY) (2-2), 48-0; NEXT UP: 10/04 – at Moeller (1-4, 0-1)
8. East Central (6-0, 2-0) – LAST WEEK: beat SOUTH DEARBORN (4-2, 1-1), 41-6; NEXT UP: 10/04 – CONNERSVILLE (0-6)
9. Lakota West (3-2, 2-1) – LAST WEEK: lost to #4 FAIRFIELD (5-0, 3-0), 33-7; NEXT UP: 10/04 – at Oak Hills (0-5, 0-3)
10. Harrison (4-1, 3-0) – LAST WEEK: won at Edgewood (2-3, 1-1), 28-10; NEXT UP: 10/04 – TALAWANDA (4-1, 1-1)
11. Turpin (5-0, 2-0) – LAST WEEK: won at Kings (2-3, 0-2), 27-24; NEXT UP: 10/04 – at Walnut Hills (3-2, 1-1)
12. Sycamore (3-1, 1-1) – LAST WEEK: lost to then #17 MASON (2-3, 2-1), 21-14; NEXT UP: 10/04 – at #3 Colerain (4-1, 3-0)
13. Princeton (3-2, 1-2) – LAST WEEK: won at then #12 Lakota East (3-2, 2-1), 22-24; NEXT UP: 10/04 – at Middletown (1-4, 0-3)
14. Lakota East (3-2, 2-1) – LAST WEEK: lost to #16 PRINCETON (3-2, 1-2), 28-24; NEXT UP: 10/04 – at #4 Fairfield (5-0, 3-0)
15. Mason (2-3, 2-1) – LAST WEEK: 10/04 – won at then #10 Sycamore (3-2, 1-2), 21-14; NEXT UP: 10/04 – #17 HAMILTON (3-2, 1-2)
16. Highlands (4-2, 0-0) – LAST WEEK: lost at Boyle County (6-0), 30-0; NEXT UP: 10/04 – #25 CONNER (5-1, 1-0)
17. Hamilton (3-2, 1-2) – LAST WEEK: beat OAK HILLS (0-5, 0-3), 31-21; NEXT UP: 10/04 – at #15 Mason (2-3, 2-1)
18. Anderson (3-2, 2-0) – LAST WEEK: 10/04 – beat WITHROW (2-3, 1-1), 48-14; NEXT UP: 10/10 – at Milford (3-2, 1-1)
19. Wyoming (5-0, 2-0) – LAST WEEK: won at Mariemont (4-1, 1-1), 21-0; NEXT UP: 10/04 – MADEIRA (4-1, 1-1)
20. Simon Kenton (3-3) – LAST WEEK: lost at Johnson Central (5-0), 49-11; NEXT UP: 10/10 – DIXIE HEIGHTS (2-3)
21. Ross (4-1, 1-1) – LAST WEEK: beat then #23 Mount Healthy (2-3, 1-1), 48-30; NEXT UP: 10/04 – at Edgewood (2-3, 1-1)
22. Little Miami (4-1, 1-1) – LAST WEEK: beat then #25 Talawanda (4-1, 0-1), 41-19; NEXT UP: 10/04 – at Northwest (1-4, 0-1)
23. Franklin (4-1, 2-0) – LAST WEEK: beat Bellbrook (3-2, 0-1), 27-21, OT; NEXT UP: 10/04 – at Preble Shawnee (2-3, 0-2)
24. Clinton-Massie (4-1, 0-1) – LAST WEEK: won at Bishop Hartley (4-1), 21-14; NEXT UP: 10/04 – at Goshen (3-2, 0-0)
25. Conner (5-1, 1-0) – LAST WEEK: won at Boone County (2-3, 0-1), 39-7; NEXT UP: 10/04 – at #16 Highlands (4-2, 0-0)
Knocking on the Door: Indian Hill, Lebanon, Moeller, Mount Healthy, Talawanda
Dropped Out: Walnut Hills (21), Ryle (22), Mount Healthy (23), Moeller (24), Talawanda (25)