VOTE: Player of the Week – Week 8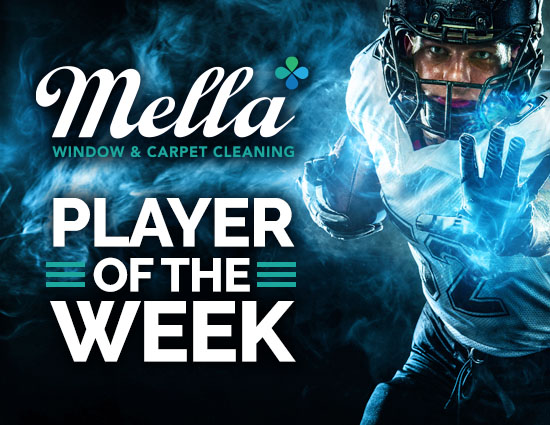 TriStateFootball.com is proud to present the Mella Window & Carpet Cleaning Player of the Week for the 2020 regular season. Players will be nominated from the Cincinnati, Northern Kentucky and Eastern Indiana areas throughout the season.
Each week a group of nominees will be selected from a large list of some of the area's top performances and will be included in an online voting poll to determine a winner. The poll will launch weekly on Sundays. Voters can vote once per hour, per IP address (we track it on back end so cheating will result in votes being voided) through Wednesday at 12:00 PM Eastern weekly.
Once a player has won, they were ineligible to be nominated a second time. Players can only be nominated three times during the course of the season.
All of the season winners will be recognized and receive a plaque at the TriStateFootball.com Year in Review Show in February of 2021 (more details announced once season concludes).
+++
Take advantage of this internet special at Mella Window & Carpet Cleaning:

SAVE $30 ON CARPET CLEANING – COMPLETE DETAILS
+++
Here are this week's nominations…
Zach Branam, La Salle, Sr, QB – Found the end one twice in the second quarter on runs of 54 and 67-yards, had a touchdown pass and finished the night with 190 yards on nine carries along with 84 yards passing as the Lancers beat Little Miami, 42-14.
Gage Bullock, West Clermont, Sr, RB/DB – Carried the ball eight times for 128 yards with two scores and snared an interception as the Wolves defeated Walnut Hills, 21-14.
Chase Crone, Simon Kenton, So, QB – Racked up 390 yards of total offense (322 pass, 68 rush) and threw for four touchdowns as the Pioneers edged Campbell County, 41-34.
Brayden Everitt Lebanon, So, QB – Amassed 354 yards of total offense (2586 pass, 98 rush) and threw for five touchdowns as the Warriors doubled up Miamisburg, 42-21.
Austin Hardin, Milford, So, QB – Aired it out for 351 yards and five touchdown passes in the Eagles 54-21 victory over Loveland.
Mick Heckard, Batavia, Sr, QB – Tossed seven touchdown passes and threw for 369 yards as the Bulldogs crushed Clermont Northeastern, 54-14.
Devin Holt, Oak Hills, Sr, QB – Went 4-5 for 46 yards, ran for 149 yards and two touchdowns as the Highlanders beat Middletown to snap a 22-game losing streak.
Kaleb Johnson, Hamilton, Jr, RB – Carried the ball 14 times for 253 yards with touchdown runs of 80 and 64-yards (in the first quarter of the Big Blue's 39-7 victory over Sycamore.
Jacob Leicht, Bishop Brossart, Jr, QB – Churned out 227 yards on the ground and accounted for three touchdowns (two pass, one rush) as the Mustangs bucked Paris, 27-6.
Bradyn Lyons, Ryle, Sr, QB – Threw for 229 yards and accounted for four touchdowns (three pass, one rush) in the Raiders 44-14 win over Dixie Heights.
Brogan McCaughey, St. Xavier, Jr, QB – Was 19-25 for 272 yards and four touchdowns passing in the first half of the Bombers 45-14 blitzing of Moeller.
Braxton Newborn, Ludlow, So, RB – Ran for 345 yards and five touchdowns on just nine carries as Ludlow leveled Bellevue, 54-8.
Trey Robinette, New Miami, Sr, QB – Amassed 370 yards of total offense (230 rush, 140 pass) and accounted for six touchdowns (four rush, two pass) as the Vikings slayed Fayetteville-Perry, 40-25.
*Nominate players weekly by emailing us at staff@tristatefootball.com by 9AM Sunday mornings.