VOTE: Player of the Week – Week 9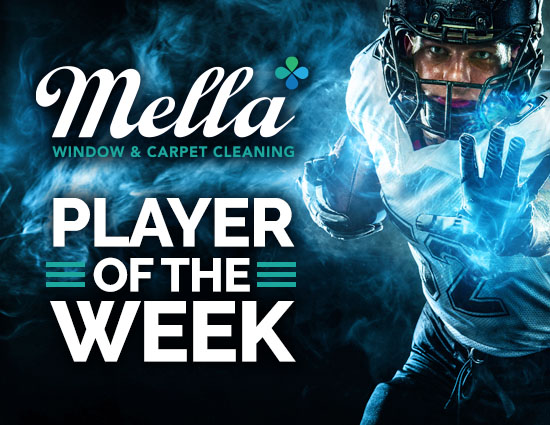 TriStateFootball.com is proud to present the Mella Window & Carpet Cleaning Player of the Week for the 2021 regular season. Players will be nominated from the Cincinnati, Northern Kentucky and Eastern Indiana areas throughout the season.
Each week a group of nominees will be selected from a large list of some of the area's top performances and will be included in an online voting poll to determine a winner. The poll will launch weekly on Sundays. Voters can vote once per hour, per IP address (we track it on the back end so cheating will result in votes being voided) through Wednesday at 12:00 PM Eastern weekly.
Once a player has won, they are ineligible to be nominated a second time. Players can only be nominated up to a max of three times during the course of the season.
All of the season winners will be recognized and receive a plaque at the TriStateFootball.com Year in Review Show in February of 2022 (more details announced once season concludes).
+++
Take advantage of this internet special at Mella Window & Carpet Cleaning:
+++
Donald Bailey, CCPA, Jr, WR/DE – Recorded five solo tackles, had a sack, forced and recovered a fumble, and returned an interception 20-yards for a touchdown as the Lions roared past Manchester, 58-0.
Nick Beckham, MVCA, Sr, LB – Registered three sacks and 10 total tackles (four solo) as the Lions took down Clark Montessori, 30-20.
Talon Borders, Carlisle, Sr, RB/DB – Found the end zone five times (four rushing, one passing), ran for 243 yards on 20 carries, racked up 309 all-purpose yards and was in on six total tackles as the Indians took down Madison Senior.
Gavin Crawford, Taft, Jr, RB, DB – Carried the ball 10 times for 110 yards and two touchdowns in the Senators' 26-0 shutout of previously unbeaten Hughes.
Chase Crone, Simon Kenton, Jr, QB – Amassed 290 yards of total offense (176 passing, 114 rushing) and accounted for four touchdowns (two passing, two rushing) as the Pioneers took down Campbell County, 41-24.
Kellen Davis, Middletown, Jr, QB – Threw for 294 yards and four touchdowns as the Middies picked up their first win of the season.
Ben Hambleton, Elder, Sr, QB – Threw for 438 yards and four touchdowns on 27/34 passing attempts as the Panthers knocked off Football North (ON), 49-20.
William Ingle, Sycamore, Sr, QB – Threw for three touchdowns, ran for three more and amassed 315 yards of total offense (194 rush, 121 pass) as the Aviators soared past Hamilton, 47-20.
Aidan Jones, Little Miami, Sr, QB – Went 12/16 for 278 yards and four touchdown tosses as the Panthers beat West Clermont, 37-13.
Lavarr Jones, Holy Cross, So, RB – Ran for 176 yards and four touchdowns as Holy Cross topped Newport, 47-14.
Mekhi Lynn, Princeton, Sr, QB – Threw for 337 yards, ran for 37 yards and accounted for 5 touchdowns (four passing, one rushing) as the Vikings ousted Mason, 37-14.
Michael Mulvihill, Blanchester, Fr, QB/LB – Ran for 222 yards with six touchdowns on 21 carries and threw for another 98 yards as the Wildcats won for the fourth time in the last five weeks.
Antwan Peek Jr, Indian Hill, Sr, RB – Found the end zone seven times on 24 totes for 211 yards as the Braves won their fifth straight game after starting 0-4.
Max Sanella, Kings, Sr, RB/LB – Carried the ball eight times for 123 yards and a pair of scores in the Knights 35-21 victory over Turpin.
Adam Sherick, Lebanon, Jr, QB – Connected on 14/21 passes for 180 yards and three touchdowns as the Warriors upset Milford.
Jared Smith, East Clinton, Sr, QB – Ran for 177 yards on 10 totes with two touchdowns and returned a punt 75 yards for a score as the Astros beat Clermont Northeastern.
Demetrick Welch, Newport Central Catholic, So, RB – Ran for 179 yards on 18 carries and a touchdown as the Thoroughbreds beat Dayton for their fifth straight win.
Mason Young, Harrison, Sr, QB – 3rd & final nomination – Ran for 352 yards and five touchdowns, with another 86 yards on the ground in the Wildcats, 51-35 win against Northwest.
*Nominate players weekly by emailing us at staff@tristatefootball.com by 9AM Sunday mornings.