Preview: Anderson vs. Kings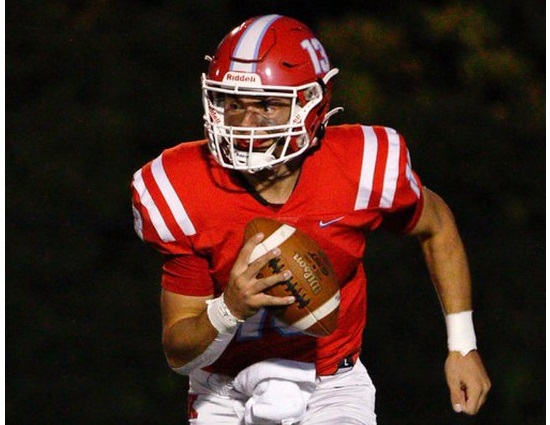 Kings QB Will Kocher
A ticket to state will be punched this weekend. It's the regional final in Division II, Region 8 and the stakes are high as ever as Anderson will meet Kings on Friday night. Both the Raptors and the Knights would relish the opportunity to represent their conference and the region as one of the last four teams remaining in the playoffs. For a second consecutive season a member of the Eastern Cincinnati Conference will make a trip to the state final four. Only one will get the chance as Anderson will try and snap a three-game losing streak against the Knights and Kings will look to build on last week's upset win.
#10 Anderson Raptors (8-5) vs #4 Kings Knights (12-1)
Kickoff: 7:00 p.m., November 18th
Atrium Stadium, Dwire Stadium, Mason HS
Follow on Twitter: @TSFootball 
PLAYERS TO WATCH: Griffin Scalf and Santos Alvarez provide the Raptors with one of the most prolific quarterback to wide receiver combos to ever take the field in this area. Scalf, the Eastern Cincinnati Conference's top passer has thrown for a staggering 4,214 yards and 33 touchdowns while completing over 63 percent of his passes. He has gone 326-513 on the season while continuously picking a part opposing defenses with precision. Alvarez has hauled in 104 receptions for 1,396 yards and 14 touchdowns. The senior has gone over 100 yards receiving in eight of the teams 13 games this season and has performed exceptionally well against some of the better defensive backs in the country.
If that weren't enough in the passing game, Mike Smith (85 rec, 1,024 yds, 5 TD), Brodey Berg (56 rec, 843 yds, 7 TD), and Miles Havens (41 rec, 505 yds, 2 TD) all have made their impact felt in the pass heavy offense. Berg also leads the team in rushing as he has carried the ball 189 times for 782 yards and 28 touchdowns.  On the defensive side of the ball, Brandon Pitts (83 tkls) and Will Karwisch (80 tkls) pace the team.
Kings provides their own abundant one-two punch. Quarterback Will Kocher could quite possibly be the conference's player of the year. The senior has gone 249-387 for 3,928 yards and 42 touchdowns. He is completing 64 percent of his passes. Kocher is also a threat in the run game as he has rushed for 547 yards and 10 scores on 119 attempts. Mike Mussari has been the favorite target on the perimeter in the passing game. Mussari has grabbed 68 receptions for 1,396 yards and 23 touchdowns for a stellar season. The Knights bring several other weapons to the table as well. Jake Cameron (62 rec, 1002 yds, 8 TD) and Nate Lyman (29 rec, 603 yds, 5 TD) provide the passing game with solid secondary options outside of Mussari.  Tailback Jay Holubetz has ran for 492 yards and 9 touchdowns to give the Knights another running threat opposite Kocher.
Nick Hoying has been on a defensive tear for Kings. The senior linebacker has massed 96 tackles on the season with 15.5 tackles for loss including five sacks. Hoying also has three interceptions, making him a first team all-conference candidate. The physical backer flies to the ball quickly as he has 46 more tackles than the next closest player (Colton Weisbrod, 50 tkls) on the stout defensive unit.
TEAM TRENDS: Anderson plays a face-paced passing offense that poses a threat to any defense. The Raptors average a tick over 42 points per game and amass over 450 yards per outing.  That of course is paced 357 yards through the air. Making things even more scarier is the fact that the Raptors have been healthy since the playoffs began. Anderson battled through an injury riddled regular season and finally have their full team at their disposal. As they boast the best offense in the conference, they also are noted with the worst defense. The Raptors have generally outscored their opponents rather than stop them for the majority of the season. Anderson gives up 365 yards per game and allow 32 points per contest.
Note: Wideout Santos Alvarez caught 10 passes for 150 yards and a touchdown in their previous meeting this season.
What sets the Knights apart from most is their defense. The defensive unit gives up only 13.3 points per game and held 10 opponents to 16 or less points. The Knights held a Winton Woods team averaging 39 points a game to only 16 a week ago and seem primed to step to the challenge this week. Offensively the Knights can score it with the best of them as they put up 38.5 points per contest and have scored over 40 points seven times this season and over 50 points three of those times.
Note: Michael Mussari had a career game in the first meeting between these teams this season with 9 receptions, 229 yards, and 3 touchdowns.
HEAD COACHES:
Anderson: Evan Dreyer (57-24 at Anderson, six years; 99-51 overall, 13 years)
Kings: Alex Garvin (36-7 at Kings, fourth year; 36-7 overall)
PLAYOFF HISTORY:
Anderson (15 appearances, 21-14) – 2021, 2020, 2018, 2017, 2016, 2009, 2008 (State Runner-up), 2007 (State Champion), 2003, 2002, 2001, 2000, 1996, 1994, 1992
Kings (17th appearance, 19-16) – 2022, 2021, 2020, 2108, 2016, 2015, 2014, 2013, 2011, 2010, 2008, 2007, 2005, 2004, 2003, 2002, 1999
ANDERSON'S KEYS TO VICTORY: Contain Will Kocher.  This should be the number one goal for the Raptors. The Kings QB has proven to hurt opponents with both his arm and his legs all season long. The Raptors will need to take something away for them to have success on Friday night. If they can keep Kocher contained in the pocket and not give up the key quarterback runs, the Raptors can make an improbable run last even longer on their way to the state final four.
KINGS' KEYS TO VICTORY: Continue dominant defensive performances. The Knights have proven that they can shut down high profile offenses and they'll need to be as solid as possible in this weeks rematch with Anderson. Getting pressure on Scalf so that he is not comfortable in the pocket will be key in slowing down a high powered passing attack. If Kings does not allow Scalf the time to find his brilliant targets, they will be celebrating on the short ride home from Mason.
Prediction: KINGS 45, ANDERSON 32