Trying times at North College Hill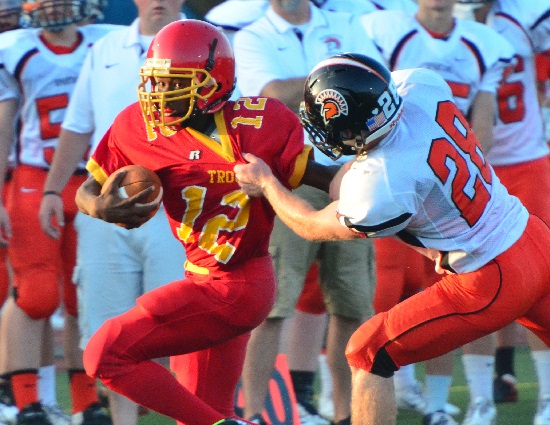 How North College Hill handles adversity is one of the biggest questions in the MVC heading into this season. Long-time Trojans head coach Bruce Baarendse was stricken with cancer and his well-being is on everyone's mind. Staying focused on the games is going to be a top priority for NCH.
This is a team that may not be rattled by the off-field goings on. The Trojans are very experienced as many of the upper classmen have started or lettered since their freshman years. Add in depth in the trenches and North College Hill could be a force.
It will be an emotional season. It is important for this squad to get off to a good start to gain the confidence they need to weather the storm. Look for NCH to play a spirited brand of football as they dedicate their hearts and souls to coach Baarendse. Friday nights at Joe Nickel Field will be intense to say the least.
Division V, Region 18
2014 RECORD: 5-5, 52 MVC
COACH: Bruce Baarendse (171-119 @ North College Hill, 29 years, 171-119 overall)
TOP RETURNEES
Jujuan Linzy, WR/DB- One of the elite players in the MVC Linzy is a two-time First Team All-MVC performer. A great Athlete on both sides of the ball Linzy amassed 1,811 all-purpose yards and led the MVC with eight interceptions last fall. He has the potential to play at the Division I level. Linzy finished the 2014 season with back-to-back 100-yard rushing games and 523 yards on the ground. During his career Linzy has caught 89 passes for 1,222 yards and nine touchdowns.
A.J Hammonds, Jr, DE – The 6-foot-3, 215 pound Hammonds who runs a 4.5 40-yard dash is a Division I prospect. All Hammonds did as a sophomore was record 8.0 sacks, register 98 tackles and come up with four fumble recoveries on his way to First Team All-MVC honors.
Maron Miller, Sr, OL/DL – Miller was sensational as a junior leading the team with 9.5 sacks and also getting in on 75 total tackles to earn First Team All-MVC accolades.
Justin Graver, Sr, OL/DL – A leader on the o-line Graver will also start on the d-line this fall. He was a Second Team All-MVC pick as a junior.
Franklin Steward, Jr, QB – In his first year as a starter under center Steward threw for 1,150 yards, ran for 512 more yard while accounting for 15 touchdowns (eight passing, seven rushing) as a sophomore. He garnered Second Team All-MVC honors for his work.
Adrian Ward, Jr, LB – This will be Ward's third season as a starter. He was named Second Team All-MVC as a sophomore after getting in on 71 tackles and recording 4.5 sacks as a sophomore.
Khairi Harris, Sr, ATH – A four-year starter at several different positions Harris was in on 59 tackles, had four sacks, an interception and a fumble recovery as a junior. He was named Honorable Mention All-MVC for his work.
Meki Sams, Jr, FS- Sams started every game last year and recoded 60 total tackles and a sack.
NEWCOMERS
In the trenches the Trojans will look to a group of big strong and athletic juniors to star in Tyrique Lyle, Maurice Pruitt, Antwan Robbinson, Jabari Arnold, Dequan Cain and Khalil Scott. Senior Dionte Motley will also be thrown in the mix up front.
Junior linebacker Gerald Thomas will provide depth at several positions. Sophomores Elijah Gordon, Cameron Hughes, Daquan Adams and John Stanley will play key roles on the varsity squad.
PLAYOFF HISTORY
(six appearances, 2-6) – 2011, 2010, 2009, 2008, 2006, 2001
2015 SCHEDULE
A tough non-conference schedule provides plenty opportunities against Wyoming, Roger Bacon and Northwest. North College Hill could really boost team morale by winning two of those tilts. That stretch will go a long way in determining just how good this team is and the character they keep.
THE SACKMASTERS
North College Hill registered 41.0 sacks in 2014. Returnees Miller, Hammonds, Ward and Harris combined for 26.0 of those takedowns.
GRAVER GETS HIS KICKS IN
It not every day that you see an offensive lineman handling the kicking duties but Justin Graver is the exception to the rule. Last fall as a junior Graver tallied 21 points including 2-3 made field goals for the Trojans.