Coghlin is Spartans Newest Recruit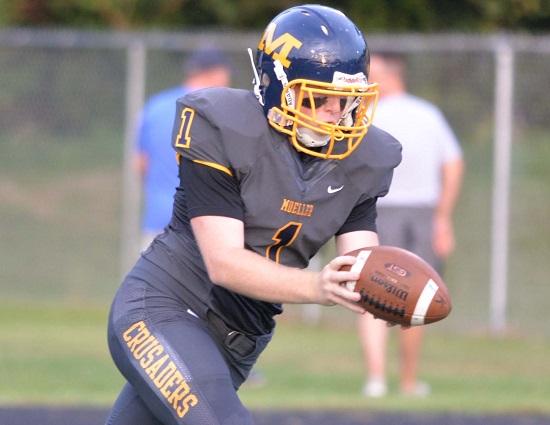 When you head to Lockland Stadium to watch Moeller football, usually what catches your eye is the offensive playmakers or the talented defense, but this season make a point to watch senior kicker Matt Coghlin.
Most of the time the kicking game goes unnoticed, but in the competitive Greater Catholic League a field goal can be the deciding factor in a game. Coghlin has ice in his veins, and at times becomes a very important part to the school's success.
Last season in the Regional Final against Wayne, Coghlin scored the first 15 points for the Crusaders on five field goals. One of those field goals measured a season-long 54 yards. The offense struggled to find the endzone, but Coghlin helped the Crusaders hold a 15-14 lead in the third quarter. Unfortunately for the Crusaders, Wayne scored a touchdown late in the game to win 29-22, and eventually go on to become state champions.
Coghlin finished the season with connecting on 17 of his 27 field goal opportunities, and converting 35 of 36 extra point attempts. That earned Coghlin a Division I SM All-Ohio, and First Team All-SW Ohio District, and helped Coghlin receive offers from numerous colleges. The one that stood out for Coghlin was Michigan State as just last month he verbally committed to becoming a Spartan next fall.
"There were many reasons on choosing Michigan State, but the main ones were the school, the coaching staff and just a great time on the visits," said the senior kicker.
Coghlin said he attended a camp last year and this year, and then visited the school a couple weeks after he committed. He was very impressed with the Michigan State coaching staff.
"One thing that stuck out to me with the coaches was the family attitude and the commitment to excellence," Coghlin said.
The 5-feet-10 kicker has a three-star rating according to Yahoo Rivals.com. SpartanMag.com wrote a recent article about Coghlin comparing him to former Centerville High School and current Bengals kicker Mike Nugent, and said Coghlin is ahead of Nugent when he was this age.
One challenge a kicker has playing on the next level is adjusting to the larger stadiums. As mentioned Coghlin has ice in his veins, but even he admitted that is something he needs to get acclimated with.
"The biggest challenge will be to stay calm and do not get any nerves in front of thousands of people," expressed Coghlin.
The Spartans coaching staff told Coghlin he will probably red shirt next season, but did stress the best kicker will kick. For now he is preparing for his senior season and helping Moeller win the school's 10th state title.
"My goal for the season is to do the best I can possibly do," said Coghlin. "The goal is to win a state championship."