Ryle sinks CovCath on late TD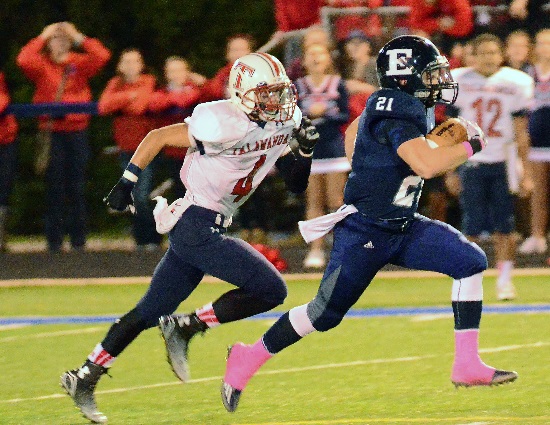 PARK HILLS, Ky. – For Ryle, the process of putting itself back on the football map in Northern Kentucky began the second half of last season.
Thanks largely to junior quarterback Tanner Morgan's arm and legs, the Raiders accelerated that process substantially in their 2015 opener.
In his Ryle debut, Morgan ran in a decisive 27-yard touchdown with 2:19 remaining as the Raiders edged Covington Catholic, 35-28 at Wooten Stadium on Friday.
"Great start for our season, and hopefully we'll just keep the momentum rolling and our season ends up being a very good one," Morgan said.
Morgan finished 26 of 35 for 449 yards and a pair of touchdowns. The Hazard transfer, who threw for 2,536 yards and 31 TDs last season, ran in two more scores, gaining 58 yards on the ground.
"Especially for a first game in a big rivalry, first game with the hype, new field, new stadium, all that stuff, for him to walk in here and perform like he performed tonight, I can't say any more," coach Mike Engler said.
The Colonels opened the scoring on their second possession, which was extended because of a costly roughing the kicker penalty on Ryle during a punt. Sophomore quarterback A.J. Mayer hit senior wide receiver Ian Summe on a 31-yard strike down the sideline.
Ryle answered on its second play from scrimmage. Junior Bryce Ashley went 77 yards for a score on a slant route.
On the ensuing kickoff, CovCath senior Ryan McGinness initially fumbled the ball but picked it up and ran it 90 yards into the end zone.
It was the third touchdowns in 65 seconds.
But the Colonels lead was only five, 12-7, as they missed both extra points.
The Raiders pieced together an 80-yard drive early in the second quarter to regain the lead, highlighted by a 54-yard senior Lex McGregor run and capped off with a 1-yard sneak by Morgan, making it 14-12 at the break.
Ryle took a pair of personal fouls on the opening drive of the second half and was forced to punt on fourth and 44, and after a 20-yard punt, CovCath took over on the Raiders' 37.
Three plays later, Mayer rolled right and connected with senior Kyle Beck for a 27-yard TD strike. Mayer tacked on the two-point conversion on a pass to senior Ben Darlington, giving the Colonels a 20-14 edge.
The Raiders answered with another 80-yard drive, this time on 10 plays, with McGregor delivering the TD run from a yard out.
The teams traded quick scores again on their next possessions, as Darlington caught a 31-yard pass for CovCath, which tacked on two points again, and senior Grant Beagle went 85 yards on Ryle's first play from scrimmage, tying the score at 28 late in the third quarter.
Both teams missed 40-plus yard field goals early in the final stanza, and after the Colonels' attempt, the Raiders drove the length of the field in four plays for the winning score.
Morgan hooked up with Ashley for a 50-yard gain, on which Ashley juggled the ball along the sideline before finally securing it.
Ryle ran the ball twice for minimal gains, and on third down, Morgan scrambled before tucking the ball and running it in from 27 yards out.
"We actually were running a little crossing route, and Tanner saw an opening, turned it up(field) and run it," Engler said. "The kid made great, great decisions, and made great decisions all night."
CovCath took over at its own 26. Darlington broke gains of 16 and 35 yards, taking it to the Raiders' 15, but on the latter run, he was injured and had to be taken off the field on a stretcher.
His left leg, from the calf down, was heavily bandaged before he was escorted off the field.
That seemed to kill the Colonels' momentum. They lost four yards on the next play and nine more on a fumbled snap, making it third and 23.
CovCath's final two plays of the night were incompletions.
Ashley led all receivers with 166 yards on seven catches. Beagle finished with two receptions for 104 yards. Both had one TD.
Mayer, in his first career start, ended up 16-for-32 for 234 yards. Darlington was the game's leading rusher with 13 carries for 111 yards.
Ryle finished 5-17 in 2012 and 2013, but after a 1-5 start in 2014 – Engler's first season with the club – the Raiders won four of their final six, including a home win over CovCath.
"I'm confident in my team, and I'm confident in myself," Morgan said. "We've got great players at Ryle and we got the job done."
RYLE 7-7-14-7 – 35
at COVCATH 12-0-16-0 – 28
CC-Summe 31 pass from Mayer (kick failed)
R-Ashley 77 pass from Morgan (Molique kick)
CC-McGinness 94 kickoff return (kick failed)
R-Morgan 1 run (Molique kick)
CC-Beck 27 pass from Mayer (Darlington pass from Mayer)
R-McGregor 1 run (Molique kick)
CC-McGinness 31 run (McGinness pass from Mayer)
R-Beagle 82 pass from Morgan (Molique kick)
R-Morgan 27 run (Molique kick)
RECORDS: Ryle 1-0, CovCath 0-1.