Preview: Ryle at Covington Catholic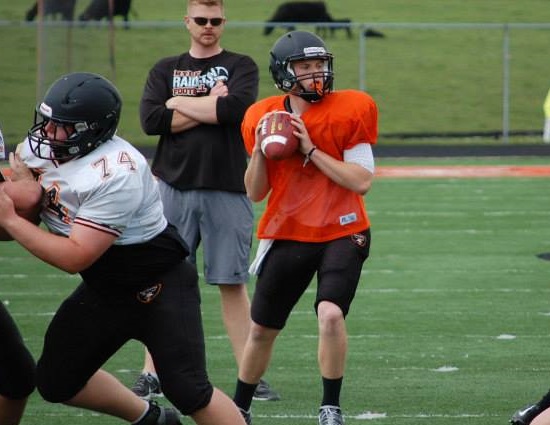 We kickoff the 2015 high school football season as our US Marines Battle of the Gridiron Tour pulls into Covington Catholic where the Colonels will host Ryle in a rare Friday dinner time affair at Wooten Field. Both teams come into the season boasting of promise.
The home team welcomes in the Eddie Eviston era. He led Newport Central Catholic to a pair of Class 2A state titles in his only three years as a high school head coach. Colonels' fans are hoping he can break the Highlands curse and make CovCath the team to beat once again in Northern Kentucky.
Ryle enters its second season under the guidance of Mike Engler. The Raiders got better as the season went along in 2014. They look to pick up where they left off. With a year under their belts in Engler's system this team should look more polished on both sides of the ball.
Even though it is the opener, the offenses will be the stars of the show on this evening. This affair should be highly entertaining with the scoreboard getting lit up early and often.
RYLE RAIDERS (0-0) at COVINGTON CATHOLIC COLONELS (0-0)
Kickoff: 5:30 p.m at Wooten Field
Follow on Twitter @TSFootball
PLAYERS TO WATCH: All eyes will be on Ryle junior quarterback Tanner Morgan, who transferred from Hazard. He threw for more than 4,800 yards and 56 touchdowns in two seasons as a starter at Hazard. Morgan has offers from Wake Forest, Louisville and Cincinnati. Raiders running back Colin England ran for 1,144 yards and nine touchdowns as a junior. Classmate Mitchell Bateman put up 431 yards and seven touchdowns on the ground in '14.
Linebacker John Meiman has been a model of consistency for the Ryle defense, recording 195 total tackles in two seasons as a starter. Defensive back David Rich registered 96 total tackles and recovered three fumbles last fall.
Covington Catholic will look to running back Ben Darlington and receiver Ryan McGinness to take the weight off an inexperienced quarterback. A healthy Darlington is poised for a monster senior campaign in Eviston's offense. McGinness value lies in his versatility. He can run, pass or catch the ball.
The Colonels' defense is paced by linebacker Cameron Pitzer. He has 165 total tackles with two fumble recoveries and a pair of interceptions during his career.
TEAM TRENDS: The two teams have split games the past two years with Ryle winning last fall. Covington Catholic has won four straight openers. The last time they lost their first game of the season was to Ryle, 61-7 at Nippert Stadium in '10.
RYLE'S KEYS TO VICTORY: Ryle started last season on the road and did not come out crisp. The Raiders need to get off to a good start or they will be playing catch up all night. With an array of weapons at the skill positions, Morgan should use that to his advantage. Success spreading the field early will open up the run game for England in the second half.
COVINGTON CATHOLIC'S KEYS TO VICTORY: It will benefit the Colonels if they can come out loose. Playing tight in the first half will allow Ryle to build confidence the longer they stay in the game. Eviston's teams have understood how to deliver a knock blow. If CovCath is capable of displaying that kind of killer instinct early in Eviston's tenure they are in for a big season.
Prediction: COVINGTON CATHOLIC 35, RYLE 31