Miamisburg survives vs. Springboro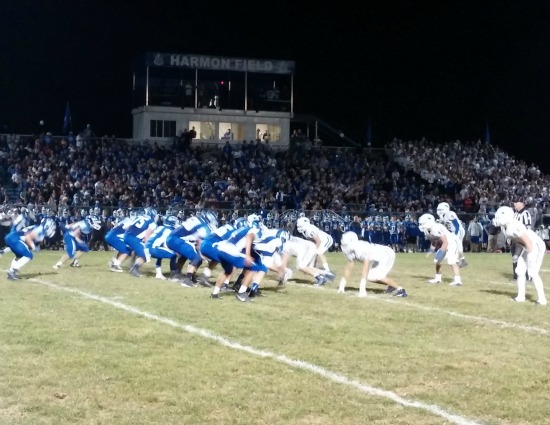 MIAMISBURG, Ohio – After scoring 29 unanswered points in the second half, it looked as if Springboro would complete a comeback for the ages.
However, thanks to a Tony Clark, Miamisburg would hold on to beat the Panthers, 35-32 on Friday. After he intercepted a Springboro pass with 2:51 remaining in the game, Clark scored the game-winning touchdown from 11 yards out with 46 seconds remaining.
"It's just a great win, a great win for our community," Miamisburg head coach Steve Channell said. "It gives us a league title and it sends us to the playoffs for the third year in a row. We win the last game here at historic Harmon Field, it doesn't get much better than this."
Miamisburg jumped out to an early lead behind the arm of quarterback Jake Schoenberger. After connecting with Tyler Johnson on an 11-yard pass, Schoenberger found Tony Clark for a 53 yard touchdown pass to give the Vikings an early 14-0 lead.
Schoenberger continued the aerial assault in to second quarter, throwing his second touchdown to Johnson from 30 yards out, extending the Miamisburg lead to 21-0.
Trailing 28-3 with 10:18 remaining in the third quarter, Elijah Cunningham and the Springboro offense hit its stride. Cunningham threw three touchdown passes in the second half, including two to receiver Nick Kovacks.
The Panthers took their first lead of the game with 8:50 remaining in the fourth quarter when running back Dylan Jones scored from 3-yards out, making the score 32-28.
Miamisburg withstood the massive comeback, scoring with less than a minute left to wrap up the 35-32 victory.
"I think this is the hurdle that our program needed," Channell added. "It wasn't easy, we let a big lead slip away. We were able to come back, thanks to a great performance by Tony Clark. It's a big win for our program, it truly truly is."
Springboro outgained Miamisburg 393-355.
Jake Schoenberger threw for 144 yards and three touchdowns for the Vikings.
Elijah Cunningham, who is committed to play for Bowling Green next season, completed 24 passes for 297 yards and three touchdowns for the Panthers.
The Miamisburg victory snapped an 18 game win streak for Springboro vs. the GWOC South.
This was the final game for Miamisburg at historic Harmon Field. The Vikings have played football there since 1923.
"I'm so elated, this is the greatest win in my coaching career," Channell said. "With all the variables here tonight. The last game here, we had to win to get into the playoffs, the league title, there were just so many things on the line here. This community just turned out tonight, the crowd was unbelievable."
Next week, Miamisburg will wrap up the regular season when it visits rival West Carrollton.
Springboro will look to bounce back when it hosts rival Lebanon.