St. John Bosco closes Media 25 gap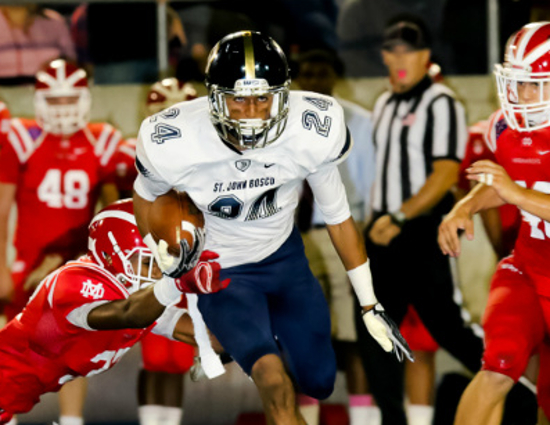 With the exception of the top two teams — which were pushed closer than at any point this season — every team in the Media Compilation Top 25 had a change of placement this week.
No. 1 Bishop Gorman (Las Vegas, NV) had its point total unchanged for the fourth straight week as it has settled in with 237 points but No. 2 St. John Bosco (Bellflower, CA) made heavy gains, closing the gap from 10 points to just two with a running-clock win over now-No. 24 Mater Dei.
Past Media Compilations:
It was the seventh game in a row that St. John Bosco has put the mercy rule into effect — and the seventh game in a row that running back Sean McGrew got to take the pads off early.
He told the Los Angeles Times following the win that he is more rested than ever but it ready for a full football game.
"I don't think I've played a down in the fourth quarter this whole season or carried the ball, which is ridiculous," he said. "It shows our offense is stepping up scoring tons of points and making my job easy. I'm definitely healthier with less carries. I don't really have those bumps and bruises like I had last year."
The Braves have outscored opponents 424-88 this year — with nearly half those points coming against the second team.
It has bettered the No. 2 team in Oregon — Portland Central Catholic; a Top 5 team in New Jersey — St. Peter's Prep, and two foes from the vaunted Trinity League — Santa Margarita and Mater Dei — all on the road. It still has JSerra, Orange Lutheran, and Servite to close the regular season and depending on its seeding in the Pac5 playoffs could play two other nationally relevant foes before potentnial showdowns with Compilation No. 3 Corona Centennial and No. 8 De La Salle.
It could also gain placement points this week if Bishop Gorman falls — or plays too closely with fire — against Don Bosco (Ramsey, NJ) in its last test of the season.
The Media Compilation takes into account the four most respected human polls, the top computer model, and an emerging hybrid human-algorithm to make for the best rankings in the country.
Those under consideration are the NationalHSFootball.com HSFB100; USAToday Super 25; MaxPreps Xcellent25; PrepNation Top 25; Jeff Fisher's Top 25 and the Freeman Computer Top 25.
For a mathematically sound compilation each team is given points from 40 to 16 for being inside the Top 25 of each of those six polls with no points awarded for any additional rankings due to the differing size of each poll.
Points are assigned in decreasing value starting with 40 being awarded for No. 1 and on down to 16 for No. 25 which will result in a more accurate representation of the polls. Assigning points starting at 1 point would skew the tally in the instance that a team received a single, high placement versus a team with lower placements in multiple polls, raising the baseline eliminates the outlier impact in the compilation.
The poll will be updated and released each Tuesday of the football season.
Here is the complete Media Compilation Top 25:
Join the HSFB100 discussion: Get a free user name | Post on The Varsity Board
No. (LW)

PTS

TEAM (ST)

HSFB

USAT

MAX

PN

JFAM

CPU

1 (1)

237

Bishop Gorman (NV)

2

1

1

2

2

1

The Gaels point total or placement in any poll hasn't changed in four weeks. The team was not slowed in its domination of Nevada competition this week as it blasted Legacy, 63-7. Tate Martell threw for 230 yards and five scores in the blowout. Biaggio Ali Walsh rushed for 211 and two scored on nine carries. This week it will play Don Bosco (Ramsey, NJ) in its last test of the season — one that will certainly adjust its placement in a poll or two.

2 (2)

235

St. John Bosco (CA)

1

2

2

1

3

2

The Braves put a running clock on now-No. 24 Mater Dei with a 42-0 lead at the mid-point of the third quarter and then coasted to a 42-21 final. Sean McGrew nearly eclipsed 200 yards rushing. The result pushed St. John Bosco to No. 2 inside the Freeman Computer (up five spots); No. 2 in MaxPreps (up two), and to No. 3 in the Fisher Algorithm (up one). It is the closest the compilation poll has been all year. St. John Bosco could still play No. 3 Corona Centennial and No. 8 De La Salle before the season is out.

3t (3)

223

Centennial (CA)

4

5

3

4

4

3

Centennial extended its Big VII League win streak to 32 with a blowout over Roosevelt, 59-7. JJ Taylor gained 133 yards and four scores on 16 carries in the first half while Anthony Catalano tossed two scores to Javon McKinley in leading the offense to six scores on eight possessions before the break. The schedule keeps costing the Huskies as it fell one spot at MaxPreps, Fisher Algorithm, and Freeman Computer. It gained one point in the USAToday, however.

3t (4)

223

Allen (TX)

5

3

4

5

1

5

Allen was idle this week and stayed the course in all polls except MaxPreps, which moved it up one spot to fill in for the loss of DeMatha. Combining that one point gained with two cumulative lost for Centennial and it tied the two for third.

5 (7)

208

Colquitt County (GA)

3

4

5

3

6

17

Colquitt jumped out to an early 35-0 lead on Valdosta and cruised in for a 49-14 final. In the first half of play, the Packers had 312 yards of offense and only allowed 127. Colquitt quarterback Chase Parrish threw just his third interception of the year — if there was a negative takeaway in this one. The major move made this week was an eight-spot increase in the Freeman Computer to No. 17 from No. 25. The Packers gained placement points at MaxPreps and the Fisher Algorithm backfilling for DeMatha.

6 (8)

202

Trinity (TX)

7

10

9

7

5

6

The Trojans rushed the ball 53 times for 603 yards against nationally-relevant Southlake Carroll and won the game, 37-35. Ja'Ron Wilson accounted for 339 yards and three scores on 31 of those attempts as the Trojans were comfortably ahead before Southlake Carroll scored three times in the fourth quarter to keep challenging Euless Trinity. The Trojans moved up 10 spots in the Freeman Computer, four at MaxPreps, three in the HSFB100, two at both PrepNation and the USAToday, as well as one in the Fisher Algorithm.

7 (6)

197

IMG Academy (FL)

6

7

14

11

7

4

IMG Academy idle this week but saw movement in every poll. It was down five from MaxPreps and one each in the Freeman Computer as well as PrepNation. It gained two spots in the HSFB100 and one each within the USAToday and Fisher Algorithm.

8 (9)

186

De La Salle (CA)

8

11

17

8

9

7

De La Salle knocked Poly out with a 52-6 blasting of the Jackrabbits. The Spartans kept Poly from breaking triple digits on offense — it was playing without four-star quarterback Malik Henry — and used an old school De La Salle drive to open the third quarter, extending its lead before two quick scores advanced the game to a running clock. It gained 10 spots in the Freeman Computer; four at PrepNation; three in the HSFB100; two at the USAToday, and one from the Fisher Algorithm. The Spartans fell back one spot within the MaxPreps rankings.

9 (11t)

169

St. Edward (OH)

8

14

19

19

8

8

It was a check-the-box game for St. Edward as it used one of its lone weeks against irrelevant competition to down Canada Prep Academy, 42-10. The scoring was balanced as Eddie Redden, Elijah Warfield, Cole Gest, Teddy Gordon, Jimmy Keefe, and Kevin Kramer all found the endzone in the game. It gained five spots in the Fisher Algorithm; three each from USAToday and PrepNation, and one inside the HSFB100 as well as MaxPreps. It dropped two spots in the Freeman Computer.

10 (13)

159

Katy (TX)

10

9

7

10

10

—

Katy has won its games this year by a combined 305-18 following its 55-0 win over Morton Ranch. The Tigers had 384 yards and 19 first downs versus just 92 yards for its foe. Katy only allowed three complete passes for just eight yards in the game. The otherwise meaningless performance gained the team five spots in the HSFB100 as it jumped Cedar Hill for No. 3 in Texas; four at PrepNation; three inside MaxPrep, and two within the USAToday. It lost a spot in the Fisher Algorithm and remained unranked by the Freeman Computer with a low strength of schedule.

11 (14)

148

Cedar Hill (TX)

11

12

16

6

12

—

Cedar Hill bettered Grand Prairie by a final count of 35-7. Four-star quarterback Avery Davis was 13-of-19 for 242 yards and three scores. The dual-threat added another touchdown on the ground, calling his own number just three times. Kaegun Williams tallied 94 yards and a touchdown on 10 carries in the contest, too. The team moved up position points in most every poll, accounting for DeMatha and Spartanburg losses.

12 (–)

142

Gonzaga (MD)

24

18

10

16

21

15

Tyree Randolph carried the Eagles to a 24-14 victory over now-No. 14 DeMatha on national television. Randolph piled up 187 yards and two scores as the defense was oportunistic in gathering fumbles and keeping DeMatha off the board. The team hadn't received a single placement vote but immediately gained unanimous placement with its victory. The challenge will be maintaining that spot with games versus Good Counsel and St. John's in the final three rgular season weeks.

13 (16)

137

Clay-Chalkville (AL)

20

6

11

12

19

—

Clay-Chalkville got coach Jerry Hood win No. 100 this week as it scored on its first seven possession to set a 50-0 margin at halftime. The Cougars rolled Woodlawn by a 72-6 final as its second teamers were able to clean up the second half and get quality reps. Its defense forced seven three-and-outs in the blowout. The team moved up five spots in the HSFB100 and one within the USAToday. It gained three spots in all of MaxPreps, PrepNation, and the Fisher Algorithm.

14 (5)

127

DeMatha (MD)

25

21

12

20

22

19

DeMatha lost to now-No. 12 Gonzaga as it had multiple turnovers and over 100 yards in penalties. The highlight of the game was a 92-yard touchdown run by Lornezo Harrison but otherwise it was a lackluster performance. The passing game was never able to get going as the blocking for Beau English regressed in a major way. It stayed in every poll but lost major points, dropping 19 in the HSFB100; 17 in the Fisher Algorithm; 16 at USAToday; 15 in the Freeman Computer; 14 at PrepNation, and nine from MaxPreps.

15 (17)

125

Ocean Lakes (VA)

16

8

6

9

—

—

Another week and another meaningless win for the Dolphins as it blasted Tallwood, 77-0. There may be no more talented team in the country playing a worse schedule than Ocean Lakes. It is impossible to evaluate this team, guessing — based on talent — it is Top 25. It gained placement points in all four polls that it is ranked as it continues to buoy with the results around it.

16 (18)

122

Male (KY)

14

17

18

21

13

—

Male threw two interceptions and lost three fumbles in a 27-24 win against Louisville St. Xavier. It had opened a 20-0 lead in the first half before miscues chunked away at its lead. A fumbled punt that led to a quick score for St. X shrunk the lead to 20-7 and then a 98-yard pick-six right before halftime cut it to 20-14 at the break. Male allowed a 17-yard fumble return to set the final margin early in the fourth quarter. It, like Ocean Lakes, gained placement points.

17 (19)

115

Gilman (MD)

17

—

23

22

18

10

Gilman put up 42 points in the first half of its 48-7 victory over Archbishop Spalding. This could be the best Gilman team — perhaps ever — as the offense, defense, and speical teams are all playing well. Runningback Antonio Dupree rushed for 125 yards and two scores — pacing the 411 yard outpouring. The defense got two first half interceptions that helped set up two scores and get the running clock in the second half. It gained five spots in the Freeman Computer and placement points elsewhere.

18 (20)

112

South Panola (MS)

—

19

8

14

11

—

South Panola blanked Tupelo with a 35-0 shutout. The Tigers have been solid in most every contest this season and has stayed relatively close to where it had started in several polls. It made a big jump at PrepNation and MaxPreps, gaining four points. It is still relatively down the list for the HSFB100 and Freeman Computer.

19 (21)

104

Grayson (GA)

12

20

15

13

—

—

Most everything about this game looked the part of an impressive performance as Grayson downed Central Gwinnett, 35-2. However a sloppy first half saw his team turn the ball over thrice and allowed a safety to keep the contest closer than it should have been. The Rams defense was equally as greedy, creating four interceptions and recovering a fumble to help spark the offense. A pick-six followed by another turnover pushed Grayson out to a 21-2 lead before it set the final margin in the second half. Judging this game on just the final numbers it checks the box, but with the eye-test it wasn't pretty. With losses ahead of it, the Rams gained in every poll despite the so-so performance.

20 (24)

102

Jenks (OK)

22

13

—

15

—

12

Jenks was balanced in its 56-21 victory over Oklahoma Top 10, Edmond Santa Fe. Quarterback Cooper Nunly was 17-of-26 for 317 yards and four touchdowns — all four in the second half — turning a 21-7 lead at halftime to a 49-7 lead before the fourth quarter started. Other losses pushed Jenks from just outside to just inside the HSFB100 Top 25 and gained it major points. The other three polls it is ranked it gave it placement gains.

21 (22)

97

Chandler (AZ)

13

—

20

18

—

16

Chandler was idle this week and stayed in close proximity to where it was in all polls last week. It will play at Brophy in Week 9.

22 (23)

95

Colerain (OH)

18

—

21

—

16

14

Colerain extended its league winning streak to 50 this week as it downed Lakota East, 34-0. The Cardinals were up 20-0 in the first quarter and cruised to victory. Sophomore running back Gunner Leyendecker and junior Monalo Caldwell each scored twice for the Cardinals. The team gained six combined points in the HSFB100, MaxPreps, and Fisher Algorithm but dropped four places in the Freeman Computer to offset those increases.

23 (11t)

90

American Heritage (FL)

—

22

13

25

14

—

The Patriots became collateral damage from the Gonzaga upset of DeMatha as the Patriots fell even more than the Stags did. The direct loss to DeMatha earlier in the year was a necktie for the team that became an anchor. It coupled the perception loss with a poor on-field performance in beating Cardinal Gibbons, 21-14.

24 (15)

73

Mater Dei (CA)

—

—

—

17

20

13

Mater Dei was gifted a soft landing as the computer polls only know datapoints — a 42-21 loss — and not how that was arrived at — a 42-0 running clock in the third quarter against No. 2 St. John Bosco. The Monarchs played poorly in every area of the game and, somewhat impressively, St. John Bosco left points on the field. It has to rebound versus Servite this week.

25 (–)

58

Center Grove (IN)

—

—

—

—

15

9

The Center Grove anomoly is one of the few times the scoring of the Compilation Poll shows its flaws as a high placement from the Freeman Computer and Fisher Algorithm got the team into the poll this week. Center Grove finished a regular season unbeaten with a 7-0 win over Indy Cathedral and it does have an impressive strength of schedule with a handful of close wins. Humans are holding out until after the playoffs, it appears, as none have bought in so far.

Dropped From the Media Compilation Top 25:

Previously ranked No. 10 Spartanburg (SC) and No. 25 La Salle (Cincinnati, OH).

Others Receiving Votes:

St. Thomas Aquinas (53); Hamilton (47); La Salle (44); Roswell (43); Trinity Christian (42); Bergen Catholic (41); Wayne (36); Maryville (32); Webb City (26); Saline (25); Homewood-Flossmoor (20); St. Joseph (19); Bingham (18); Klein Collins (18); Christian Brothers (17); Cibolo Steele (17), and Eden Prairie (16).

Stopped Receiving Votes:

Spartanburg and St. Xavier (Cincinnati, OH)
JOIN THE HSFB100 DISCUSSION: Create a user name | Post on The Varsity Board