Best Bets: Ohio – Week 12 (Friday)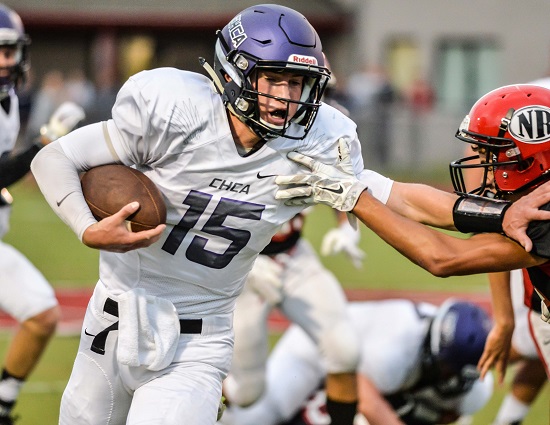 TriStateFootball takes a look at the Best Bets in Ohio for Week 12 on Friday night.
Division II, Region 6
#1 Cincinnati La Salle (9-2) vs. #5 Lima Senior (9-2), Friday, 7:30 p.m. at Roush Stadium, Fairmont HS – The weight of this affair will be on the shoulders of the defenses. Can Lima stop Jeremy Larkin, Jarell White and the Lancers ground game? On the other side of the ball the Lancers have to shut down the aerial attack of the Spartans. Those are tall orders so expect a high-scoring contest. Lima Senior's lowest point output of the season was 33 points. Quarterback Darius Gordan has thrown for 3,160 yards and 31 touchdowns for the Spartans. His top targets are Ruben Flowers (Pittsburgh commit), who has 77 receptions for 1,153 yards with 17 touchdowns, and Rico Stafford, who has 1,000 yards on 35 receptions (28.5/catch) with seven trips to the end zone. Jaden Walker leads the Lima Senior with 1,609 yards and 26 touchdowns. Demontay Liles has 568 yards rushing and 596 receiving.
#2 Kings Mills Kings (10-1) vs. #3 Cincinnati Turpin (10-1), Friday, 7:30 p.m. at Firebird Stadium, Lakota West HS – Kings looks at the regular-season loss to Turpin as the one that got away. The Knights gave up two touchdowns in the last six minutes of the contest, falling to the Spartans in heartbreaking fashion, 20-16. Since that Week 4 defeat Kings shuffled its defense, adding three new starters. The Knights have not given up more than 17 points in a game over the last seven weeks. The Spartans have found a go-to back in Luke Bohenek. The junior has 1,541 yards and 18 touchdowns rushing. Bohenek has rushed for 169 yards or more six times in the team's last nine games. Kings will look to shut him down and dare other Turpin players to beat them.
Division III, Region 10
#1 Wapakoneta (11-0) vs. #4 Cincinnati Mt. Healthy (8-3), Friday, 7:30 p.m. at Good Samaritan Stadium, Matt Dudon Memorial Field, Northmont HS – Somehow, some way the Mount Healthy defense has to dig deep and come up with one of its best performances of the year. The Redskins run the triple-option offense as good as any team in the state. The good news for the Owls is that they have David Montgomery at quarterback and that gives them a chance to win every Friday night. Montgomery has rushed for 2,532 yards and 41 touchdowns. He is as hot as any player with at least 170 yards and three touchdowns in each of his last nine games. The Owls are averaging 23.1 points per game. Wapakoneta has not given up more than 22 in a contest all season.
#2 Tipp City Tippecanoe (10-1) vs. #3 Trotwood-Madison (8-3), Friday, 7:30 p.m. at Heidkamp Stadium, Wayne HS – This will be a rematch of the 2013 Region 6 championship that Trotwood-Madison won. The Rams are now on a quest for a sixth straight regional title. Tippecanoe has a huge challenge in trying to slow down running back Rave'ion Hargrove. The Trotwood-Madison sophomore has tallied 2,122 yards and 29 touchdowns on the ground. Hargrove has amassed 180 yards or more on the ground eight times this season. This will be a big test for an underrated Red Devils' defense that is allowing just 13.2 points per contest.
Division V, Region 18
#1 Brookville (11-0) vs. #5 Jamestown Greeneview (8-3), Friday, 7:30 p.m. at Doug Adams Stadium, Xenia HS – Defense wins championships and that means good things for Brookville as the Blue Devils are giving up just 8.5 points per contest. Bailey Wallen and Harry Hall have each rushed for more than 1,000 yards for Brookville during the regular season. The Greenview offense must be able to sustain some long drives and keep the Blue Devils duo off the field.
#2 Cincinnati Hills Christian Academy (10-1) vs. #3 Coldwater (11-0), Friday, 7:30 p.m. at Alexander Stadium, Purk Field, Piqua HS – A year ago in the fourth round of the playoffs Coldwater ended the season for CHCA, beating them 34-3. The Eagles have been waiting for this moment to prove that they are worthy of being the best Division V team in Southwest Ohio. This is the most explosive offense that CHCA has had during head coach Eric Taylor's tenure. The Eagles are peaking at the right time on this side of the ball. Stopping the high-powered Cavaliers is another story. CHCA will have to win the battle on the line if they