Best Bets: Ohio – Week 12 (Saturday)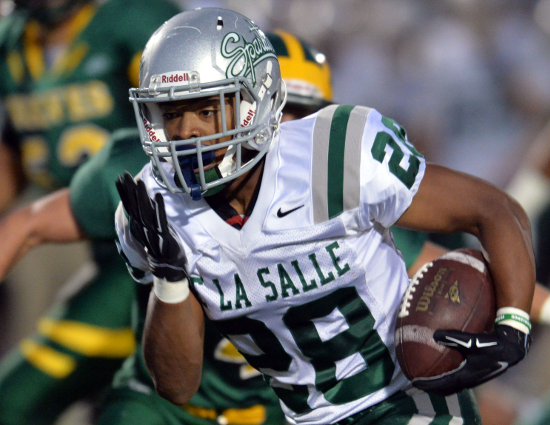 There were a number of upsets in the first week of the playoffs, leaving several lower seeds to vie for a shot at the state quarterfinals.
Games move to neutral sites this Saturday, and a handful of matchups could attract huge crowds.
TriStateFootball takes a look at the Best Bets in Ohio for Week 12 on Saturday.
St. Xavier (7-4) vs. Colerain (10-1) at Mason H.S., 7 p.m. – This is the most anticipated contest in the Cincinnati metro area, especially since these teams played earlier this season and the game went to overtime, with Colerain prevailing, 13-10. St. Xavier beat Gahanna Lincoln, 28-14 last week, with the Bombers rushed for 310 yards in that game. Sean Prophit finished with 172 of those – giving him 930 for the season – and two TDs. He did not rush for 100-plus yards in any of the first eight games but has triple figures in three straight. Colerain, the region's No. 1 seed, pounded Dublin Coffman, 53-7 last week. Deshaunte Jones accounted for 145 of the Cardinals' 408 ground yards in that game. Jones now has 1,362 rushing yards and 23 TDs. Expect to see a lot of running in this game, and who will win is anyone's guess.
Hilliard Darby (9-2) vs. Elder (8-3) at the University of Dayton, 7 p.m. – Thirteenth-seeded Darby snuck through the first round of the playoffs with a 17-10 win over No. 4 Lancaster. The Panthers had won their first eight before losing the final two regular season games. Elder beat Fairfield, 50-42 last week, as QB Payton Ramsey threw for 246 yards and three touchdowns and rushed for 157 more and one score. Following a disappointing 14-0 loss to Winton Woods, the Panthers have won three straight and averaged 35.3 points in that span. Advantage Elder.
Springboro (9-2) vs. Wayne (11-0) at Centerville H.S., 7 p.m. – Springboro is the 11 seed in Region 2 but blew out No. 6 Mason by three touchdowns last week. Elijah Cunningham is now over 2,500 passing yards for the season (2,554), and he has thrown for 27 touchdowns. Nick Novacks has caught 65 passes for 1,033 yards, and Alex Feldman leads the team in catches with 77 for 737 yards and eight scores. Wayne QB Messiah DeWeaver the 2,029 passing yards, 22 TDs and just two picks. L'Christian Smith leads the team in receiving yards (830) and touchdowns (11). Two other receivers – Daryl McCleskey and Matt Wilcox – also have over 500 yards receiving. So this game should feature a lot of passing, and Wayne, which has outscored opponents, 469-89, should be favored.
Clinton-Massie (10-1) vs. Indian Hill (11-0) at Princeton H.S., 7:30 p.m. – Clinton-Massie obliterated Taft, 70-14 last week, continuing its MO of scoring seemingly at will. The Falcons, who have won nine straight games, are averaging 49.5 points per game, reaching the 50-point mark seven times. Indian Hill QB Reed Aichholz has now passed for over 2,000 yards and rushed for over 1,000. He has 2,291 yards in the air and 15 TDs, and he has gained 1,061 yards on the ground and scored 27 times, with 14 rushing touchdowns in his last five games. Indian Hill should win this game, which should feature a lot of scoring.
Alter (10-1) vs. Fenwick (11-0) at West Carrollton, 7 p.m. – Alter has just one loss this season, and that came against – you guessed it – Fenwick. The Knights have thrown the ball just 63 times this season, depending on an impressive running game led by Andy Turpin, who has 1,048 rushing yards, including 174 last week in a win over McNicholas, and 17 touchdowns. Ryan Markoff has added 767 ground yards for Alter. The Knights are averaging 38.5 points and allow just 14.9. But Fenwick is scoring 34.3 points per game and surrendering an average of just 6.9. Like Alter, the Falcons don't pass much, just 47 times this year. Michael Sheridan leads the team in rushing yards with 857, and Nathan Jeffers has 820 ground yards and a team-best 14 touchdowns. Sheridan gained 143 yards on the ground on just 15 carries as the Falcons piled up 230 rushing yards in the regular season win over Alter. The Knights managed just 84 yards of offense overall in that loss, so Fenwick is the obvious favorite in this one.
Bellevue (9-2) vs. Kenton Ridge (8-3) at Findlay H.S., 7 p.m. – The No. 7 and No. 6 seeds both advanced last week out of Region 12. Bellevue has won eight straight games, including last week's 18-0 victory over second-seeded Wauseon. Kenton Ridge topped No. 3 Jonathan Alder, 33-28 after dropping the final two games of the regular season. Jayden Davis has been a force for the Cougars, rushing for 1,695 yards and 19 touchdowns. Kenton Ridge doesn't throw a ton but has had success in the air, and Jordan Bailey has 16 receptions for 431 yards, with seven of those catches going for scores. Should be a close one.