Kings Quarterback on College Radars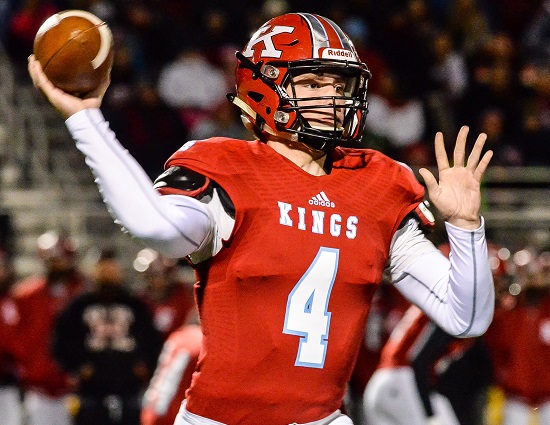 Kings junior quarterback Tyler Knecht had another outstanding season for the Knights. For the second straight season the 6-feet-5 quarterback helped King reach the Division II, Region 6 Regional Final before losing to La Salle.
Knecht has thrown for over 2,000 yards in each of his two seasons, but at times he gets overlooked in the Tri-state area because of the amount of talent at the quarterback position. That is beginning to change as Division I schools are starting to inquire about the pro-style quarterback.
"Tyler does not get enough credit because of the good quarterbacks we have in the league," Kings head coach Andy Olds said. "He has a big arm and his football IQ is incredible."
Knecht is starting to receive interest from MAC and Big Ten schools. The Knights' quarterback visited Indiana when the Hoosiers played Michigan. He has also been recruited by Purdue, Cincinnati, Toledo, and Miami (OH).
Knecht is only a junior so he has yet to make any official visits to any of these campuses. After talking with Olds the one quality Knecht has that cannot be taught is his drive to improve on the football field.
"He is a leader for us last year and this year. He makes us go," Olds said. "He is our soft spoken leader and the first guy at practice and the last one to leave."
That is a quality every coach looks for in his leader, and will be something any one of these schools will benefit from when Knecht makes his decision. For now, Knecht will look to improve the Knights finish from this past season, and do something at Kings that has yet to be accomplished and that is a regional championship.