Springboro upsets Mason on road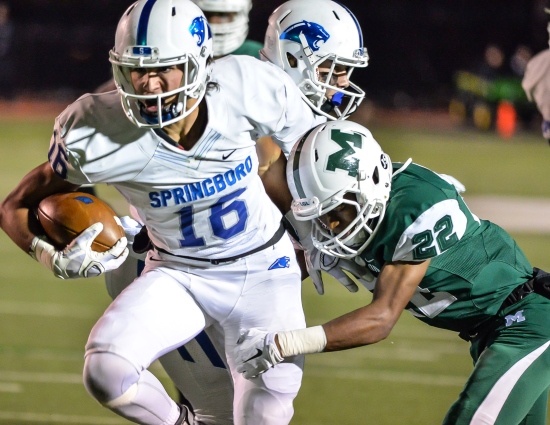 MASON, Ohio – Behind the arm of quarterback Elijah Cunningham, the Springboro Panthers avenged a Week 1 loss to the Mason Comets on Saturday night, with a 42-21 victory in the first round of the Division I, Region 2 playoffs.
After scoring only 17 points in their week one loss to Mason, Springboro's offense was clicking on all cylinders tonight. Cunningham, a Bowling Green commitment, completed 22 passes for 200 yards and four touchdowns.
"I think the difference was turnovers. We had four turnovers to their none in the first game," Springboro head coach Ryan Wilhite said. "Tonight we were able to protect the football better. We were able to finish drives. We talked about that a lot this week. If we could continue to be who we are and finish drives in the red zone, that would be big tonight. We were able to do that."
The Panthers were set up with good field position after Mason muffed a punt return late in the first quarter. Springboro capitalized on the opportunity when Cunningham connected with Nick Kovacs for an 8 yard touchdown pass, giving the Panthers a 7-0 lead.
Mason's special teams unit would redeem itself halfway through the second quarter when Ty Sponseller scooped up a blocked field goal attempt and returned it 81 yards for a touchdown, tying the game at seven.
Springboro quickly responded as Cunningham found Kovacs again for a 17 yard touchdown.
Kovacs made it a hat trick in the third quarter as he found the end zone once again from 37 yards out, extending the Springboro lead to 21-7.
The Comets would finally score their first offensive touchdown late in the third quarter when tight end Ben Fago took a Preston Hutchinson pass 81 yards for a touchdown.
From there, Springboro wouldn't look back, scoring three touchdowns in the final 13 minutes of the game, including two from running back Dylan Jones.
Springboro out gained Mason 370-329.
Preston Hutchinson completed 13 passes for 210 yards and two touchdowns for the Comets.
Mason concludes a successful season with an 8-3 record.
This is the fourth consecutive season that Springboro has faced a team from the GMC conference in the first round of the playoffs. The Panthers lost the previous three times.
"We're growing into division one football. Every year has been a process," Wilhite added. "There have been a lot of teams that have come before us, that have helped us to get here. These guys wanted to make history. It's the first division one playoff win in the history of the school, and I'm really really proud of these guys."
Next week, the Panthers will face a team from their own conference, the Wayne Warriors. Wayne defeated Reynoldsburg 56-14 on Saturday night. Before coming to Springboro, Wilhite spent six seasons as the offensive coordinator at Wayne. It will be the first ever meeting between the two schools.
"Those guys are some great friends of mine, I have a lot of respect for their program," Wilhite said. "When you talk about playing Wayne in the post season, that's something that we're really excited about."