Marty Makes CHL History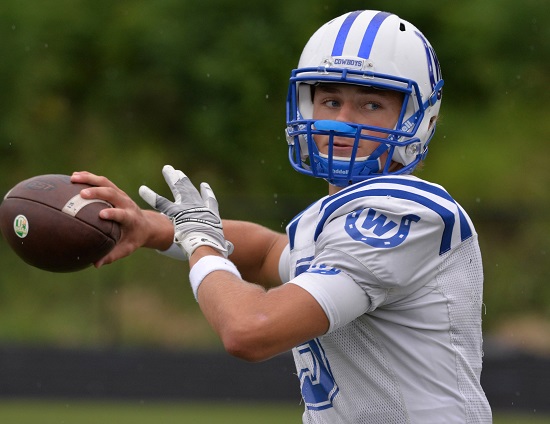 A broken Femur cut short the junior season of Wyoming quarterback Andrew Marty but that has not discouraged colleges from realizing that he was a special talent. The six-foot-four and-a-half, 215 pound Marty has landed four offers all from Mid-American Conference schools – Miami (OH), Toledo, Eastern Michigan and Western Michigan.
According to Wyoming head coach Aaron Hancock that makes Marty the first quarterback ever from the Cincinnati Hills League to receive a Division I-A (FBS) offer. Hancock and his predecessor the legendary Bernie Barre have searched the CHL record books all the way back to its beginnings in 1985 and found that no other league signal-caller had received a DI offer to the best of their knowledge and research.
The CHL has seen its share of fine quarterbacks. Former Reading star Tony Pike went to Cincinnati as a walk-on before leading the Bearcats to some of the best years in the history of the program. Indian Hill signal-caller Bo Cordell never received a DI offer but tore up the Division II record books at Tusculum College. Before Cordell at Indian Hill quarterback Michael Sherpenberg went on to play at DII Grand Valley State then transferred to Miami (OH).
As for Marty, all of this success did not happen overnight. "He has always been on the radar. He has been getting attention since he has been in eighth grade," Hancock states.
Marty threw for 1,801 yards, run for 296 yards and account for 22 touchdowns (18 passing, four rushing) earned Division IV Second Team All-Southwest District honors for the 10-2 Cowboys as a sophomore. It was his breakout varsity campaign. After that, "he hit the camp circuit hard and got a lot better with his throwing motion and ability to fling the ball around the field" Hancock said.
Showing off those skills did not last long in 2015 as he went down early in Week 3 of Wyoming's schedule. Despite the setback Marty had left quite an impression on others before the season. At this moment Marty is a hot commodity. College coaches are stopping into Wyoming to see him and many others are asking for his highlight tape. "When they see him in person they recognize that he is an impressive kid. He is a fantastic quarterback," Hancock laments.
With many more good days to follow before his senior year starts Marty has no favorites among the schools that have made him offers. Why hurry on a decision when there are other who have yet to throw their hats into the ring for his services. The most highly recruited quarterback in CHL history is far from done writing his chapter in league lore.