Tough Losses Haunted the GCL Central in 2015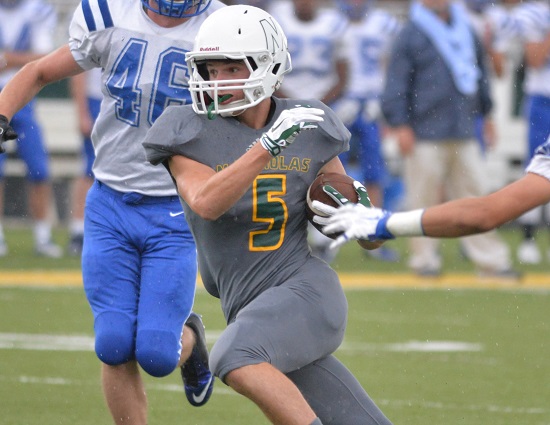 Tough luck losses haunted Greater Catholic League Central teams a year ago. Those schools look to put last season's heartbreaking defeats in their rear view mirrors as they journey down the road in 2016. With the path cleared and the slate cleaned GCL Central squads are eager to reverse their fortunes this fall.
Here is a look around the GCL Central.
A-Mayes-ing Mitchell: Purcell Marian found its quarterback of the future last fall. Mitchell Mayes came out of nowhere to throw for 1,543 yards and 17 touchdowns in his Cavaliers debut as a sophomore. Mayes threw at least one touchdown pass in every game, only had eight interceptions and never fumbled.
Cavaliers Close Calls: Six of Purcell Marian's 10 games in 2015 were decided by seven points or less. The Cavaliers who went 3-7 were 2-4 in those affairs. In 2014 Purcell Marian lost seven tilts all between eight and 35 points.
Within Striking Distance: Cole Carmosino has connected on 27 field goals for McNicholas including 10-12 last fall. He is 14 field goals away from the Ohio state record. Former St. Xavier great Danny Milligan holds the current record with 40 career field goals. Third place is held by Carey Spear of Mayfield who had 35 field goals.
Rockets Lacked Turbo Charge: McNicholas lost five games in '15 by 15, 14, three, two and one points. The Rockets finished #17 in the final Harbin Ratings. It was the first time that McNick had not playoffs since 2011.
Revamped Rams Roster: Badin fans will be studying the program intently the first couple of weeks of the season. A large and very experienced group has graduate. The rams will look to juniors like Kegan Rogers, Lavassa Martin, Traijan Schlager, Bryce Holian and Jordan Flaig to step into big voids left behind.
Badin Burdens: The senior class that just went through Badin went a combined 25-11 over the past three campaigns. Those Rams lost to Alter, Bishop Fenwick and McNicholas three times each during their careers.
Hennekes Hustle Pays Off: No matter where he was asked to play for Roger Bacon's Trey Hennekes. He was a First Team All-GCL Central selection as a junior after throwing for 188 yards, rushing for 137 yards and catching 13 passes for 216 yards with six touchdown catches. On defense Hennekes was in on 44 tackles with two interceptions including a pick six.
Burnt Bacon: After a 3-0 start Roger Bacon falter in in league play last fall. The Spartans went 0-7 versus their GCL rivals. They allowed 50.6 in those losses and allowed 49 points or more in six of those contests. Roger Bacon gave up 326.7 yards rushing per game and 35 total touchdowns on the ground during conference tilts.