TSF Player of the Week: Week 6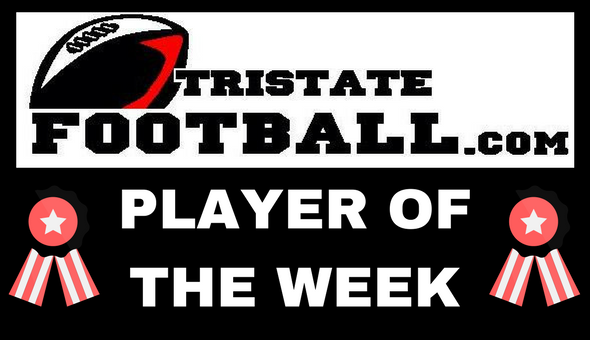 TriStateFootball.com is proud to once again present its TSF Player of the Week for the 2017 regular season. Players were nominated from the Cincinnati, Dayton, Northern Kentucky and Eastern Indiana areas.
Each week a small group of nominees will be selected from a large list of some of the area's top performances and will be included in an online voting poll to determine a winner. The poll will launch weekly on Sundays. Voters can vote once per hour, per IP address through Thursday night at 6PM E.T weekly.
Once a player won, they will be ineligible to be nominated a second time. All of the season winners will be recognized and receive a plaque at the TriStateFootball.com Year in Review Show in February (more details announced during postseason).
Taking advantage of the TSF-only deal at Gold Star this week:
$5 OFF any purchase of $20 or more – PRINT COUPON
Here are this week's nominations…
Josh Bailey, St. Bernard-Elmwood Place – Down 22-0 in the second quarter Bailey willed his team to victory over New Miami scoring five times (three rushing, two fumble recoveries) to close out the contest.
Kayvon Britten, Western Hills, RB – Racked up 283 yards rushing on 27 carries with three touchdowns as the Mustangs picked up their first win of the year.
Joe Collins, Summit Country Day, ATH – Impacted the Knights win versus Norwood in all phases of the game, averaging 41.3 on four punts, connected on all three of his extra points and one field goal attempt, had a 75-yard touchdown catch and was one of the team's leading tacklers.
Jack Comer, Campbell County, WR – Reeled in seven catches for 187 yards with touchdown reception of 55 and 46 yards in the second quarter of the Campbell County's domination of Mount Healthy.
Tanner Cromer, Reading, DE – Was a one-man wrecking crew with 17 total tackles (10 solos) and two-and-a-half sacks as the Blue Devils beat Madeira.
Logan Flatt, Butler, RB – Had 303 yards rushing on 27 carries with three touchdowns as the Aviators cruised past Greenville.
TJ Gelter, New Richmond, RB – Found the end zone four times (two rushing, one receiving, one kickoff return) and finished with well over 300 all-purpose yards (162 yards rushing) in the Lions big victory over Wilmington.
Cooper Gullion, Conner, QB – Amassed 327 yards total offense (267 passing, 60 rushing) and accounted for four touchdowns (two passing, two rushing) as the Cougars took out Lloyd.
Darrion Henry, Princeton, DB – Intercepted two passes including a 60-yard pick six that gave the Vikings a lead right before halftime that they never relinquished in beating Oak Hills.
Maleek Jarrett, Hamilton, RB – Ran the ball 28 times for 157 yards and four touchdowns as the Big Blue outlasted Middletown.
Miles Johnson, Northmont, QB – Threw three first half touchdowns and finished with 339 yards passing as Northmont dismantled Lebanon.
Connor Luksic, Springboro, K – Hit two field goals in the last four minutes including a 23-yard shot with 0:03 left as the Panthers handed Beavercreek its first loss.
Ben Scott, Harrison, RB – Ran for 167 yards on 13 carries and found the end zone three times (two rushing, one receiving) in the Wildcats win over Talawanda.
Donovan Shelton, Centerville – Got his hands on the ball 13 times for 234 all-purpose yards, including eight receptions for 146 yards and a pair of bookend touchdowns as the Elks remained unbeaten after defeating Wayne.
Cameron Specht, St. Xavier, WR – Scored the game's only two touchdowns as the Bombers bested rival Elder, 14-6, to remain unblemished.
Aaron Tolliver, Eaton, WR/DB – Came up with three takeaways (two interceptions, one fumble recovery) including an 83-yard pick six as the Eagles soared past Monroe.
Malik Vann, Fairfield, FB/DL – Registered two sacks and had a touchdown as the Indians won their fourth in a row taking down Sycamore.
Shawn VanNoy, Dayton Christian, QB – Went 9-of-12 for 198 yards and five touchdowns, all before halftime as the Warriors routed CCPA.
Channing Williams, Dixie Heights, RB – Only carried the ball eight times but had 84 yards with two big touchdowns as Dixie Heights captured its third straight win.
You can send your weekly nominations to us on twitter @TSFootball or by email.
*Check out of this year's winning PLAYERS OF THE WEEK.