Team of the Week: Week 6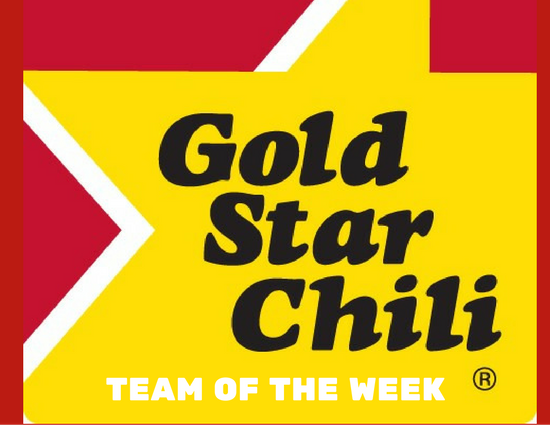 Gold Star Chili and TriStateFootball.com are partnering once this year to present the Gold Star Chili Team of the Week during the 2017 regular season. Each week 8-10 schools will be nominated from the Greater Cincinnati area to be included in an online voting poll to determine a winner.
The voting is open now until Thursday night at 6PM Eastern. Voters can vote once per hour, per IP address.
Once a team has won, they were ineligible to be nominated a second time. All of the winning teams will receive a trophy to be presented at their school by Gold Star Chili.
Taking advantage of the TSF-only deal at Gold Star this week:
$5 OFF any purchase of $20 or more – PRINT COUPON
Here are this week's nominations:
CAMPBELL COUNTY (4-2)
Campbell County handled Mount Healthy in an interstate match-up as they took down the Owls, 41-6.
CENTERVILLE (6-0)
With a 39-21 win over rival Wayne the Elks now sit at 6-0 and in the driver's seat inside the GWOC National East.
FAIRFIELD (4-2)
The Indians stayed perfect in GMC play as they knocked off Sycamore, 21-7.
GOSHEN (6-0)
The Warriors remained undefeated bu shutting out Western Brown in a 56-0 victory.
HARRISON (4-2)
Harrison rolled past Talawand 42-12 to pick up their second SWCO win of the year.
LA SALLE (5-1)
The Lancers kicked off GCL South play by taking Moeller 28-24 on the road.
MCNICHOLAS (5-1)
McNick's defense has allowed seven points or less in four of last five games, including this week's 28-0 shutout over Carroll.
MVCA (4-2)
The Lionas handed Cincinnati Country Day its first loss of the season in 26-21 win last Thursday.
NEW RICHMOND (5-1)
New Richmond prevailed in a battle of 4-1 teams as they knocked off Wilmington, 41-21.
READING (4-2)
Reading bounced back nicely this week to take down Maderia 26-14 to move to 4-2 on the season.
[polldaddy poll="9842289″]
You can send your weekly nominations to us on twitter @TSFootball or by email.
*Check out of this year's winning TEAMS OF THE WEEK.