Badin can handle the move up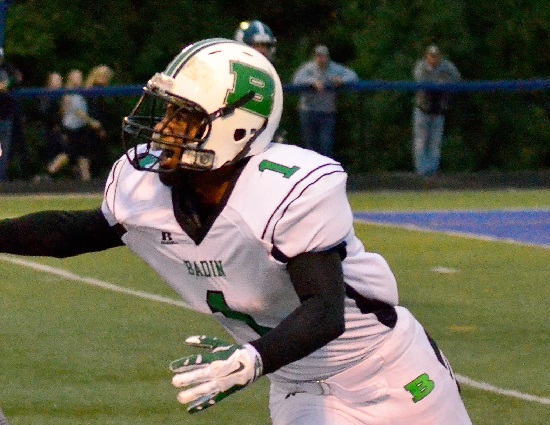 Teams in Division V, Region 18 are jumping for joy as Badin is one of seven local teams to get bumped up to Division IV, Region 14 for the next two seasons by the OHSAA. The Rams who are loaded with returning talent would have been a favorite to win Region 18. Badin now has to dig a little deeper for a regional championship as the road to the hardware now goes through perennial post-season powerhouses, Clinton-Massie and league rival Alter.
West Jefferson has been a thorn in Badin's side knocking the Rams out of the playoffs the past two seasons. The Rams won't have to face them this November but the headaches are even bigger in Region 14. Add in three bad league losses to Bishop Fenwick, McNicholas and Alter (who are all in Region 14) a year ago and there is plenty to motivate this Badin squad.
Scoring points won't be a problem. The Rams offense scored 50 touchdowns last season and everyone who contributed to that total is back. Expect a veteran defense to improve on the 23.3 points they allowed in 2014. All the pieces are in place it all comes down to stopping opposing offenses.
Division IV, Region 14
2014 RECORD: 8-4, 4-3 GCL Co-eds
COACH: Bill Tenore (42-26 @ Badin, six years)
TOP RETURNEES
Cody Boxrucker, Sr, RB/LB – Boxrucker was named Special Mention All-Ohio and First Team All-Southwest District (RB) for a second straight season in '14. He ran for 1,171 yards, had 16 receptions for 221 yards found the endzone 16 times (14 rushing, two receiving), was in on 109 total tackles and three takeaways (two fumble recoveries, one interception as a junior.
Phillip Dozier, Sr, WR/DB – A First Team All-Ohio selection at defensive back Dozier had four interceptions and a fumble recoveries as a junior. On offense he had 31 receptions for 623 yards with 11 total touchdowns (seven receiving, three rushing, one punt return). Her did almost all of his damage during the first eight games of the season. Dozier finished the year with 1,233 all-purpose yards. Dozier's impressive career has seen him catch 60 passes for 1,239 yards, amass 2,644 all-purpose yards, corral 12 interceptions and find the endzone 20 times (15 receiving).
Cole Heflin, Sr, RB – Heflin is the ultimate complimentary player. He ran for 537 yards, had 15 receptions for 181 yards and scored nine touchdowns (six rushing, three receiving) to earn Second Team All-GCL Central honors as a junior. He has 1,468 yards rushing, 14 scores on the ground, 29 receptions for 510 yards, six receiving touchdowns and 2,201 all-purpose yards for his career.
Zach Larkin, Sr, QB – A Second Team All-Southwest District pick as a junior Larkin threw for 1,852 yards with 22 touchdown tosses to garner the accolades. Larkin has thrown for 3,251 yards and 37 touchdowns at the varsity level.
Dominic Valentino, Sr, TE/LB – Valentino is a real force on the d-line for Badin. He was named the GCL Central defensive player of the year and Special Mention All-Ohio last season. On offense he also caught 30 passes for 272 yards and five touchdowns.
Jack VanSteenkiste, Sr, WR/DB – One of many productive two-way players for the Rams VanSteenkiste was First Team All-GCL Central performer in '14. He amassed 857 all-purpose yards, recorded 52 tackles and picked off two passes to earn his honors.
Fred Bradbury, Sr, LB – A Second Team All-GCL Central selection last fall Bradbury was in on 36 tackles for the Rams.
Andrew Walsh, Jr, RB/LB – Walsh paid dividends on both sides of the ball running for 273 yards and a score on offense. Defensively he was in on 26 tackles with one interception as a sophomore.
Corey Mohr, Sr, LB – More registered 60 total tackles with a sack and an interception as a junior.
Jeff Beadle, Sr, WR/DB – An unsung hero for Badin Beadle averaged 20.5 yards on 16 receptions with three touchdown catches, had 64 total tackles and four interceptions as a junior.
Brian Gerbus, Jr, RB/LB – in his first varsity season Gerbus was in on 49 Total tackles for the Rams.
PLAYOFF HISTORY
(21 appearances, 22-20) – 2013, 2010, 2009, 2008, 2002, 2001, 2000, 1999, 1998 (Regional Champion), 1995 (Regional Champion), 1994, 1993, 1990 (State Champion), 1989 (Regional Champion), 1987, 1982, 1981 (Regional Champion), 1980 (State Runner-Up), 1979 (Regional Champion), 1978 (Regional Champion)
2015 SCHEDULE
The Rams will see speed and toughness in there three non-conference games to start the season versus larger schools in Taft, Talawanda and Edgewood. Badin will need to show its mettle down the stretch closing out the year with three games on the road of which two will have serious playoff implications at Chaminade Julienne in Week 8 and at McNicholas on the final Saturday of the year.
100% RETURN ON OFFENSE
Every rushing yard, every reception, every receiving yard and every offense touchdown that Badin scored in '14 were all produced by underclassmen. Those guys all return this season.