Elks eager for another shot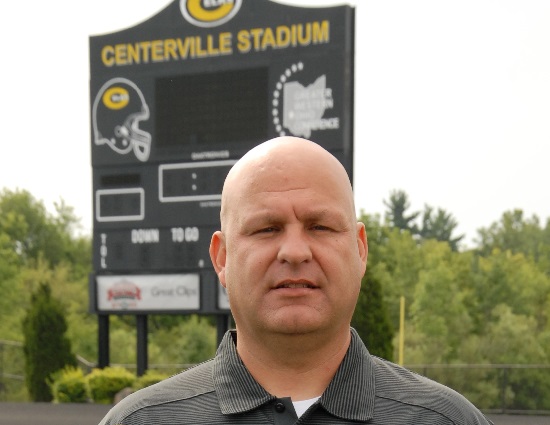 What an emotional roller coaster ride Centerville had last fall. The Elks went undefeated during the regular season winning five contests by seven points or less. They earned the #1 seed in the Region 2 playoffs only to fall to #16 seed Lakota West in the first round. It was a game they should have won and had ample opportunities to make it happen but could not execute.
Head coach Rodney Roberts will have little trouble motivating the 2015 version of the Elks, their hunger is already built in. Those who are back have had all off-season to absorb that loss expect them to come out with something to prove. Foes will treat Centerville as the hunter who becomes the hunted. The Elks are going to get everyone's best shot.
Now a year into Roberts offensive scheme look for Centerville to be faster and deeper than they been in years at the all the skills positions. That attack will be aided by a pair of top-rate transfers. They will score points in bunches again after averaging 35.7 in '14.
Early and big leads will allow Roberts to unleash his defense. It is a unit that has plenty of holes to fill but a trio of seniors who are Division I college recruits will lead them. There is plenty to prove and there will be some dogfights for snaps on this side of the ball. The junior class needs to be a pleasant surprise for this team.
Centerville will get better as the year goes on. The Elks may not go unscathed in the regular season but don't be surprised if they go on a much needed run in the post-season.
Division I, Region 2
2014 RECORD: 10-1, 5-0 GWOC Central
COACH: Rodney Roberts (10-1 @ Centerville, one year, 118-84 overall, 19 years)
HONOR ROLL
Adam Hensley, Sr, LB – Verbally committed to West Virginia Hensley is one of the top defensive players in the Dayton area. By the end of the season he will be one of the best players in the state of Ohio. As a junior he led Centerville in tackles with 57 (29 solo) and had three sacks. His accomplishments earned him Honorable Mention All-Southwest District and First Team All-GWOC Central honors.
Ilyaas Motley, Sr, DB – Speed and a nose for the ball make Motley a great commodity on defense. He was in on 43 tackles (25 solo), had a 1.5 sacks and came up with four takeaways (three fumble recoveries, one interception) as a junior. He was a First Team All-GWOC Central selection as a junior.
Xavior Motley, Sr, DB – The other member of the "Motley Crew," Xavior was a Second Team All-GWOC Central selection as a junior.
Nate Richmond, Sr, WR – What a finish for Richmond in '14. He had at least three receptions six times in the Elks last seven games (two in the other one) including nine in the playoff loss to Lakota West Richmond finished with 38 catches for 460 yards and six touchdowns on his way to Second Team All-GWOC Central accolades.
OTHER RETURNEES
Domenic Ashburn, Sr, RB – Ashburn gets better the more carries he gets. Missed the first three games but still finished 377 yards (7.0/carry) and eight touchdowns rushing. In four games that the Elks won by 30 or more points Ashburn ran for 311 yards and all eight of his touchdowns. In four games decided by seven points or less he managed just 66 yards and no scores on the ground. As a senior look for those numbers to even out which will be a good thing for this team.
Caleb Anthony, Sr, RB – Was a main part of the offense after missing the first five games in '14. Anthony ran for 146 yards with three touchdowns and caught three passes for 22, 29 and 32 yards in his limited time.
Spencer Crisp, Sr, RB/WR – Crisp does his damage in open spaces. On just 33 offensive touches he managed 211 yards from scrimmage and four touchdowns (three rushing) as a junior.
Tim Krapfel, Sr,. WR – Small and pesky look for Krapfel to be a nuisance to opposing defenses. He caught 15 passes for 158 and a touchdown in '14.
Grant Tinnerman, Sr, K – A big leg, Tinnerman went 7-9 on extra points and nailed his only field goal attempt a 46-yarder as a junior. One of the leagues top kickoff men as well.
NEWCOMERS
Jacob Harrison, Sr, QB – The transfer from Chaminade Julienne comes in with some impressive credentials. Harrison was named Division V Southwest District offensive player of the year and First Team All-Ohio as a sophomore and junior. How he handles the speed of the game at this level on a week to week basis will be the key to the Elks offense either being good or great. Bet on the latter. Harrison has verbally committed to Navy.
Tyler Traylor, Sr, TE/DE – Another transfer from Chaminade Julienne, Traylor could be a factor on both sides of the ball. Even though he only played three games as a junior Traylor still has 76 receptions for 1,025 yards and seven touchdowns at the varsity level.
Juniors LB Alec Gatto, DB Grant Lugo, DB Dalton Miller, DB Colin Neace are part of a class that played sparingly but well in '14. They need to take it up a level if this defense wants to be on a par with last season's group.
PLAYOFF HISTORY
(15 appearances, 9-15 overall) – 2014, 2013, 2011, 2010, 2009, 2008, 2007, 2005, 2004, 1999, 1998, 1993, 1991 (state runner-up), 1986, 1984.
2015 SCHEDULE
The non-conference schedule is brutal with games at Fairborn, Lebanon and Elder. There are home tilts versus Springboro and Trotwood-Madison sandwiched in between.
THE PLAYOFF BLUES
Centerville has been to the playoffs six times in the last seven years. They have lost in the first round of the post-season five times going 1-6 in that span.