Team of the Week: Week 7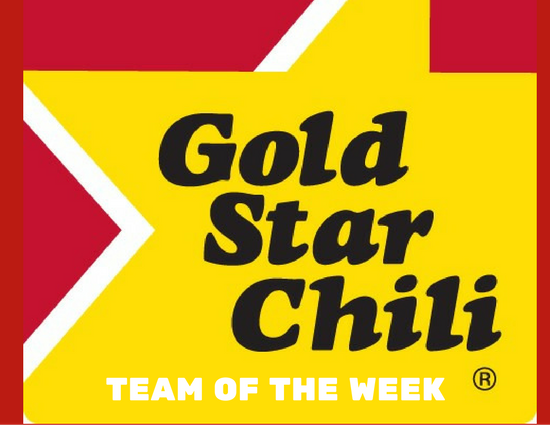 Gold Star Chili and TriStateFootball.com are partnering once this year to present the Gold Star Chili Team of the Week during the 2017 regular season. Each week 8-10 schools will be nominated from the Greater Cincinnati area to be included in an online voting poll to determine a winner.
The voting is open now until Thursday night at 6PM Eastern. Voters can vote once per hour, per IP address.
Once a team has won, they were ineligible to be nominated a second time. All of the winning teams will receive a trophy to be presented at their school by Gold Star Chili.
Taking advantage of the TSF-only deal at Gold Star this week:
Free Drink with the purchase of Chili Cheese Fries – PRINT COUPON
Here are this week's nominations:
CHAMINADE-JULIENNE (5-2)
The Eagles soared past Roger Bacon 61-32 to grab their fifth consecutive victory.
CHCA (4-2)
CHCA rolled past Cincinnati Country Day 54-7. It was the third straight the Eagles held their opponents to single digits.
COVINGTON CATHOLIC (7-0)
The Colonels remained undefeated by knocking of Indianapolis Bishop Chatard at Wooten Field Friday night, 30-7.
HIGHLANDS (3-4)
Highlands handed Dixie Heights a 47-0 defeat to open up their district schedule last week.
LLOYD (5-2)
The Juggernauts defeated Newport 36-8 in their district opener and have now won four of their last five contests.
MILFORD (6-1)
By knocking off Kings 42-28, Milford has secured a winning season. They've only had two winning seasons in last 30 years at the school.
ST. XAVIER (7-0)
St. Xavier has now won 13 straight games and with their 42-7 win over La Salle they secured the 2017 GCL South title.
SYCAMORE (5-2)
The Aviators spoiled Hamilton's Homecoming by knocking off the Big Blue in a 24-13 Week 7 win.
TAFT (5-2)
Taft picked up their fourth straight win by taking down Scott in an interstate match-up, 42-35.
WYOMING (7-0)
The Cowboys remained undefeated by handing Madeira a 31-14 defeat on Friday night.
You can send your weekly nominations to us on twitter @TSFootball or by email.
*Check out of this year's winning TEAMS OF THE WEEK.