TSF Player of the Week: Week 7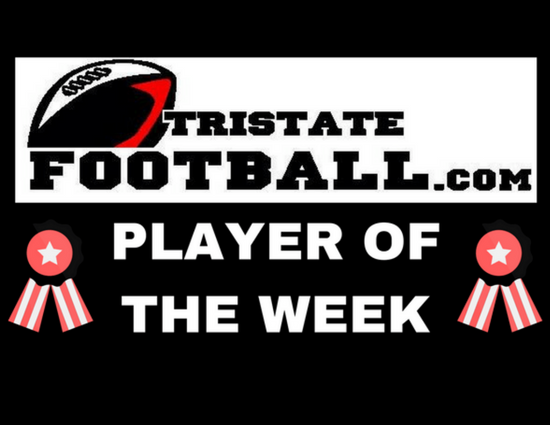 TriStateFootball.com is proud to once again present our TSF Player of the Week for the 2017 regular season. Players were nominated from the Cincinnati, Dayton, Northern Kentucky and Eastern Indiana areas.
Each week a small group of nominees will be selected from a large list of some of the area's top performances and will be included in an online voting poll to determine a winner. The poll will launch weekly on Sundays. Voters can vote once per hour, per IP address through Thursday night at 6PM E.T weekly.
Once a player won, they will be ineligible to be nominated a second time. All of the season winners will be recognized and receive a plaque at the TriStateFootball.com Year in Review Show in February (more details announced during postseason).
Taking advantage of the TSF-only deal at Gold Star this week:
Free Drink with the purchase of Chili Cheese Fries – PRINT COUPON
Here are this week's nominations…
Michael Bittner, Elder, QB – Amassed 300 yards total offense (219 passing, 81 rushing) and accounted for five touchdowns (three passing, two rushing) as Elder routed rival Moeller.
Matt Centers, Franklin, LB – Was a one-man wrecking crew, tallying 18 tackles as the Wildcats beat Bellbrook.
Alex Dowds, Campbell County, RB – Racked up 384 yards rushing on 25 carries ran for four touchdowns and caught three passes for 40 more yards as Campbell County crushed Conner.
Cleveland Farmer, Taft, QB – Went 12-for-16 for 136 yards, had eight carries for 128 yards and accounted for six touchdowns (four passing, two rushing) as the Senators won a 42-35 thriller at Scott.
Eli Gibson, Preble Shawnee, RB – Pounded out 286 yards with two touchdowns on 31 carries as the Arrows shot down Dixie.
Justin Harris, Wayne, DB – Was in on 22 total tackles (17 solo) as the Warriors blitzed Beavercreek.
Trey Heidlage, Batesville, QB – Threw for 272 yards, ran for 203 yards with three passing touchdowns and addition score on the ground as the Bulldogs beat Franklin County.
Mancini Jackson, Reading, WR/LB – Scored all of the Blue Devils' touchdowns, including a thrilling late-game winner, had 11 receptions for 128 yards and tallied seven solo tackles versus Mariemont.
Devin Kenerly, Northmont, RB – Churned out 264 yards on the ground with three touchdowns in the Thunderbolts' big win over Springfield.
Robvae McDonald, Walnut Hills, RB – Ran the ball 32 times for 172 yards and two touchdowns as the Eagles outlasted Loveland.
Pierson Rogers, Wyoming, RB/LB – Rushed for 148 yards, caught three passes for 101 yards, found the end zone twice and had five tackles as the Cowboys corralled Madeira.
Cameron Rountree, Springboro, QB – Had a huge night as he amassed 325 yards of total offense (155 passing, 170 rushing) and accounted for six touchdowns (three passing, three rushing) in the Panthers 66-56 shootout victory over Miamisburg.
Markell Stephens-Peppers, Trotwood-Madison, QB – Went 8-of-13 through the air for 284 yards with five touchdown tosses and a rushing TD to boot as the Rams crushed Fairborn.
Nick Venneman, Highlands, WR – Pulled in five catches for 153 yards and four touchdowns as the Bluebirds ended a four-game slide by shutting out Dixie Heights.
Jay Volpenhein, Anderson, QB – Accumulated 500 yards of total offense (493) passing and accounted for six touchdowns (four passing, two rushing) as the Redskins staved off pesky West Clermont.
Chase Wolf, St. Xavier, QB – Threw four first-half touchdown passes and went 16-21 for 194 yards in the Bombers' dismantling of La Salle.
[polldaddy poll="9847399″]
You can send your weekly nominations to us on twitter @TSFootball or by email.
*Check out of this year's winning PLAYERS OF THE WEEK.