Canes eye post-season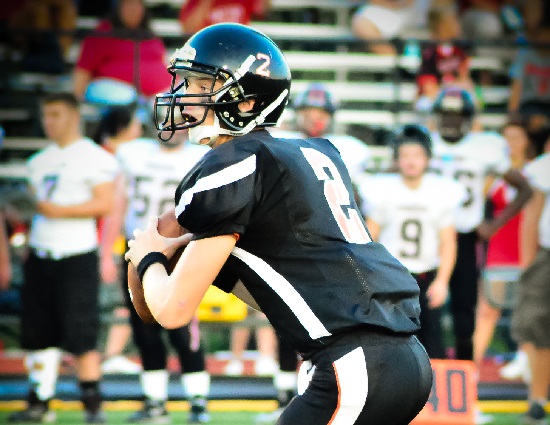 Going 8-2 and not making the playoffs was a tough pill for Wilmington to swallow in 2014 but that only motivates the Hurricane returnees to get to the promise land. Despite the loss of 13 seniors to graduation the 'Canes have plenty of talent coming back to make another run at the post-season.
Head coach Scott Killen injected an exciting brand of football into the program in his first year at the helm. Known as a defensive guru while an assistant at Clinton-Massie Killen showed that he knew a little something about offense as Wilmington had one of its highest scoring seasons in school history. A repeat performance is not out of the question. "We have athleticism, speed and senior leadership," says Killen. "We are very young on the offensive line and need to find a running back." If the Hurricane can conquer those hurdles they will be in the South Central Ohio Leagues (SCOL) upper tier once again.
Wilmington will return to campus and play their games at an upgraded Alumni Field this fall after being at Wilmington College for home games the past several years. A real home field advantage will energize the fans and players in 2015.
Division III, Region 10
2014 RECORD: 8-2, 5-2 SCOL
COACH: Scott Killen (8-2 @ Wilmington, one year, 8-2 overall)
TOP RETURNEES
Matt Creditt, Sr, QB – In his first year as a starter at quarterback Creditt aced the role. He amassed more than 2,500 yards of total offense while accounting for 31 touchdowns (25 passing, six rushing). Credit was named First Team All-SCOL for his efforts.
Dylan Beaugard, So, WR/DB – Beaugard made a huge impact as a freshman for the 'Canes accruing 587 yards receiving, six touchdowns and on defense he came up with four interceptions. He was named First Team All-SCOL for his work.
Brady McCune, Sr, FS – A top returnee and leader on the Wilmington defense McCune tallied 56 total tackles and had three interceptions as a junior.
Austin Thompson, Sr, LB – Thompson returns for his third season as a starter. He recorded 78 total tackles as a junior.
Connor Barton, So, OL – Another freshman who was vital in Wilmington's success a year ago Barton will be an anchor on the o-line for the next three seasons.
PLAYOFF HISTORY
(three appearances, 0-3) – 2009, 2005, 2003
2015 SCHEDULE
The Canes will face the same 10 teams that they did a year ago. The best part about the non-conference schedule is the quality of coaches they will face, Wilmington will be challenged and that will benefit them down the stretch in league play
LIGHTING UP THE SCOREBOARD
Wilmington scored 44 points or more six times in '14. The Canes averaged 36.9 points per contest. The 369 total points were 94 more than they scored in any season since 2006.