Green Wave sees tide turning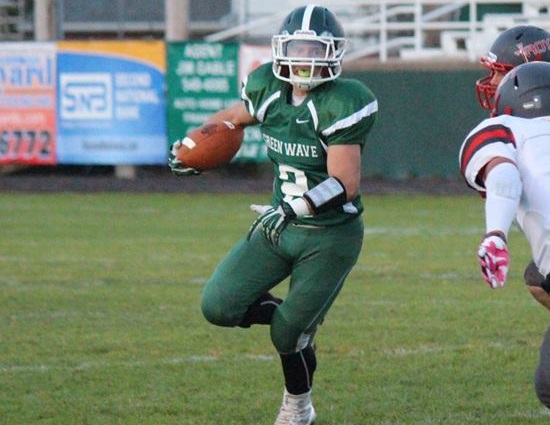 The way the 2014 season ended for Greenville was a huge turning point for the program. The Green Wave finished with the force of a tsunami winning four of their final five games to shock everyone on the way to capturing second place in the GWOC North. Now that Greenville has shown that it can play with the others in the division the hard part comes, sustaining that success. That won't be easy with the loss of 11 starters.
"We are excited to continue the growth of our program this next fall. We will be relying on some new faces, but we are confident that we have guys who can fill in for our areas of need and allow us to continue to improve as a program. Our off-season program has continued to grow and improve as well. We look forward to seeing how far we can progress between the end of last year and next season" head coach Aaron Shaffer says.
Shaffer is not to afraid to lean on youth and raw talent knowing full well that the payoff will be worth it in the end. "We return a core of players that have a lot of experience. We have grown the program each of the last three years. We also have a group of young players, who have been in the program for several years and are ready to fill in for graduating seniors."
There will be no time to rest on what appears to be the beginning of great laurels for Greenville the youngsters are going to have to produce to keep riding on the this wave.
Division III, Region 10
2014 RECORD: 5-5, 4-1 GWOC North
COACH: Aaron Shaffer (8-22 @ Piqua, three years, 16-44 overall, six years)
HONOR ROLL
Codi Byrd, Sr, RB – The GWOC's top returning rusher from 2014 Byrd had a breakout junior season. He ran for 1,026 yards and seven scores to earn Division III Second Team All-Southwest District honors. Over the last five weeks of the year Byrd averaged 162 yards over the Green Wave's final five tilts.
Clay Guillozet, Sr, QB – Back for his fourth year as a starter Guillozet saw his time limited to just six games as a junior. He was very productive in those outings rushing for three touchdowns twice, gaining a career high 238 yards on the ground in the opener at Eaton and throwing for two touchdowns twice in the last three weeks. Despite the shortened season Guillozet was still named First Team All-GWOC North. Guillozet has accounted for 3,438 yards of total offense (2,851 passing, 587 rushing) and 38 touchdowns (28 passing, 10 rushing) during his career.
Logan Eldridge, Jr, RB/SS – Like so many of his Green Wave teammates Eldridge was asked to step up early in his career. Eldridge embraced the challenge and wound up with six takeaways (four interceptions, two fumble recoveries) and was in on 72 total tackles on his way to First Team All-GWOC North accolades as a sophomore.
Lukas Lowry, Sr, OL – A leader on the offensive line Lowry was a Second Team All-GWOC North selection as a junior.
William Nibert Jr., Sr, LB – Perhaps one of the most underrated players in the entire GWOC. Nibbert has 177 tackles, registered five sacks and recovered five fumbles at the varsity level. He was a Second Team All-GWOC North pick as a junior.
OTHER RETURNEES
Kyle Phillips, Jr, DB – Phillips came through no matter where he lined up as a junior. He filled in for Guillozet at quarterback and threw for 360 yards and seven touchdowns (in four games) including four scoring tosses versus Preble Shawnee. On defense Phillips recorded 21 total tackles and came up with an interception.
Brandon Beyke, Jr, DB – A healthy Beyke adds much needed depth to a Green Wave secondary.
Justin Brown, Jr, WR/LB – Brown will be a blessing for coach Shaffer who know he can count on the junior wherever he plays him. Expect Brown to make an impact on both sides of the ball.
Aaron Rich, Jr, WR – All signs point to a breakout year for Rich as the Greenville receiving core has been depleted due to graduation. Rich is a nice target at 6-foot-3 and 175 pounds.
Elias Watters, Jr, OL – Only a junior Watters provides plenty of experience on the offensive line as he is back for a second year as a starter.
NEWCOMERS
Devin Hendrix, Jr, RB/DB – He won't be a focal point of the Green Wave but Hendrix offers a nice change of pace and different look running the football. Hendrix is capable of doing damage in the return game as well. He will make some big plays for the Greenville.
Braden Russell, So, ATH – Russell athleticism could see him taking snaps on the o-line, d-line, tight end and linebacker positions. Expect Russell to finish strong once he gets acclimated to the speed of the varsity game.
PLAYOFF HISTORY
(two appearances, 0-2) – 1996, 1992
2015 SCHEDULE
Getting to the .500 mark once again is definitely attainable for the Green Wave. Greenville can do its playoff aspirations proud by picking up quality wins versus Tippecanoe, Lebanon, Piqua or Butler.
FACING EXPERIENCE
Seven of Greenville's opponents in 2015 return their starting quarterbacks. Four of those threw for more than 1,400 yards, one for more than 1,200 yards and another for over 1,000. Those seven have also combined for more than 140 touchdown passes in their careers. –