TSF Player of the Week: Week 1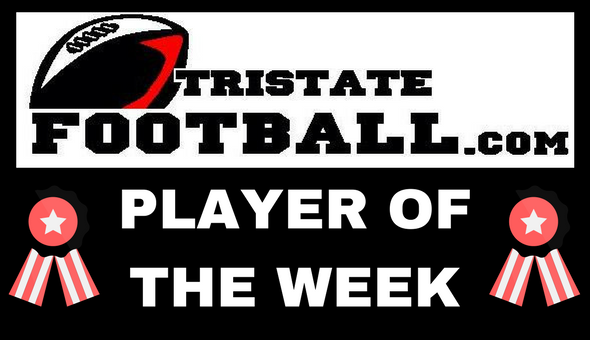 TriStateFootball.com is proud to once again present its Player of the Week for the 2017 regular season. Players were nominated from the Cincinnati, Dayton, Northern Kentucky and Eastern Indiana areas.
Each week 15-20 nominees will be selected from a large list of some of the area's top performances and will be included in an online voting poll to determine a winner. The poll will launch weekly on Sundays. Voters can vote once per hour, per IP address through Thursday night at 6PM E.T weekly.
Once a player won, they will be ineligible to be nominated a second time. All of the season winners will be recognized and receive a plaque at the TriStateFootball.com Year in Review Show in February (more details announced during postseason).
Here are this week's nominations…
Bailey Armstrong, Highlands, DB – The diminutive Armstrong recovered a fumble and had a 55-yard pick six in the Bluebirds, 27-20 overtime victory versus Campbell County.
Max Beckman, West Clermont, LB – Had a sack and recovered a huge fumble as the Wolves beat Princeton in their first-ever game.
Seth Becker, Bethel-Tate, QB – Completed 13-of-20 passes for 380 yards and four touchdowns as the Tigers cruised past Waynesville.
Tywon Berry, Dayton Christian, ATH – Racked up 267 All-purpose yards (142 rushing) on 18 touches and found the end zone three times (two rushing, one punt return) as Dayton Christian beat rival Troy Christian.
Isaiah Bowser, Sidney, RB – Ran for 205 yards, had three receptions for 107 yards and found the end zone three times as Sidney rolled past St. Mary's Memorial.
Jake Chisolm, Ryle, RB – Carried the ball 30 times for 216 yards and found the end zone four times as the Raiders escaped with an overtime win versus Henry Clay.
De'Zion Coleman, Hughes, WR/DB – Reeled in four catches for 206 yards and three touchdowns as the Big Red took care of Deer Park.
Brian Erbe, Oakwood, QB – Threw for 359 yards, ran for two touchdowns and tossed two more including a late gamer in the Lumberjacks nail-biting 42-41 win over Mariemont.
Eli Gibson, Preble Shawnee, RB – Carried the ball 18 times for 234 yards with three touchdowns as the Arrows shot down National Trail.
Jared Kelsay, Scott, SS – was in in 14 total tackles (nine solo), blocked a punt and had two interceptions in the Eagles victory over Dixie Heights.
Blake King, Milford, QB – Amassed 329 yards of total offense (295 passing, 34 rushing), accounted for six touchdowns (four rushing, two passing) including throwing the game winner with 13 seconds left as the Eagles beat Oak Hills 42-39.
Luke Lundbergh, Indian Hill – Nailed field goals from 32 and 39 yards and hit both of his extra points in the Braves 28-19 win over New Richmond.
Mark Manfredi, Madeira, RB/LB – Was a workhorse rushing for 242 yards on 37 carries, had four touchdowns, four receptions, amassed 285 all-purpose yards and recorded five solo tackles as the Mustangs outlasted Norwood.
Miles McBride, Moeller, QB – Was an incredibly efficient 11-12 for 201 and four touchdowns passing as the Crusaders handled Hamilton with ease.
Matt Shearer, Simon Kenton, QB – Accounted for five touchdowns (four passing, one rushing) and accrued 258 yards of total offense (192 passing, 62 rushing) as the Pioneers steal one on the road at Bryan Station.
Matt Sora, Mason, RB – Ran for 170 yards, had three receptions for 30 yards and scored twice as the Comets knocked off rival Springboro, 31-21.
Leonard Taylor, Springfield, QB – Amassed 316 yards of total offense (254 passing, 62 rushing), accounted for four touchdowns (three passing, one rushing) and had four tackles as Springfield crushed Lancaster.
Jarred Uran, La Salle, LB – Tallied 16 total tackles (nine solo) and had half of a sack as the Lancers topped Colerain, 7-3 in a defensive battle.
Nak'emon Williams, Kings, RB – Ran for 253 yards on 27 carries with four touchdowns including a 98-yard dash on 3rd down that was the game deciding score with five minutes left as the Knights survived at Lebanon.
Frankie Young, Harrison, QB – Accounted for all four of Wildcats touchdowns (three passing, one rushing) and amassed 288 yards of total offense (232 passing, 52 rushing) in their overtime win against rival East Central.
You can send your weekly nominations to us on twitter @TSFootball or by email.