Dayton Roundup: Regional championships claimed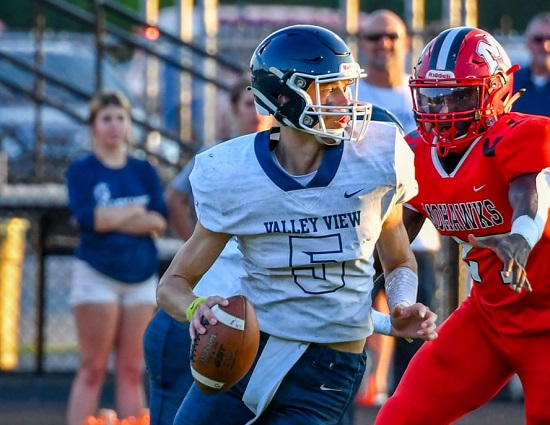 Valley View QB Caden Henson (photo from Facebook: Madison Mohawks Football Class of 2023)
It was quite a memorable night for several southwest Ohio schools. Springfield captured its fourth straight Division I, Region 2 Regional title. Valley View won its first regional championship in 20 years and eighth overall. The first seven came between 1992 and 2002. Tippecanoe captured its first ever regional crown by taking down previously unbeaten and 2021 Division III state runner-up, Badin.
LONDON, Ohio – The post season dominance for Springfield continued for Springfield as they won for the third time in this post season by 28-points (the other win was by 21 points), taking down Olentangy Liberty. The Wildcats captured their fourth straight Region 2 championship. Quarterback Bryce Schondelmyer threw for a pair of scores and ran for another. The senior now has 43 passing and three rushing touchdowns to go along with 4,120 yards through the air. Classmates Daylen Bradley (118 rec. yards) and Anthony Brown (98 rec. yards) each had nine receptions. Brown caught his 18th touchdown pass of the season.
SCORING BY QUARTERS
Olentangy Liberty 7-0-7-0-14
Springfield 14-14-0-14-42
SCORING PLAYS
S: Bryce Schondelmyer 4 run (Samuel Fralick kick)
S: Da;Shawn Martin 24 pass from Schondelmyer (Fralick kick)
C: Nic Bruder 47 pass from Braylon Newcomb (Jackson Courville kick)
S: Daylen Bradley 6 pass from Schondelmyer (Fralick kick)
S: Anthony Brown 25 pass from Schondelmyer (Fralick kick)
C: Nic Bruder 18 pass from Newcomb (Courville kick)
S: Brown 60 pass from Schondelmyer (Fralick kick)
S: Jayvin Norman 2 run (Fralick kick)
RECORDS: Springfield (12-1); Olentangy Liberty (8-6)
UP NEXT: Springfield vs. Moeller (13-1), Friday November 25th, 7:00 P.M. at Alexander Stadium, Piqua HS
++++++++++
TROTWOOD, Ohio – Jackson Kleather connected on a 23-yard field goal with 3:18 left in the fourth quarter for the game winning points. The kick sealed Tippecanoe's first ever regional title. Kleather opened the contest with a 42-yard field goal. The senior tallied eight points giving him 102 for the year including 12 field goals. Classmate Liam Poronsky paced the Red Devils with 70 yards rushing, 193 yards passing and two touchdowns through the air. Carter Russo had game high 140 yards and a touchdown rushing for Badin who lost for the first time since last seasons defeat at the hands of Chadron in the Division III state championship game.
SCORING BY QUARTERS
Tippecanoe 3-7-7-3-20
Badin 10-0-7-0-17
SCORING PLAYS
T: Jackson Kleather 42 FG
B: Nick Warner 30 FG
B: Carter Russo 4 run (Warner kick)
T: Lucas Merry 48 pass from Liam Poronsky (Kleather kick)
B: Austin Buckle 14 pass from Alex Ritzie (Warner kick)
T: Evan Liette 32 pass fromPoronsky (Kleather kick)
T: Kleather 23 FG
RECORDS: Tippecanoe (13-1); Badin (13-1)
UP NEXT: Tippecanoe vs. Bloom-Carroll (13-1), Friday November 25th, 7:00 P.M. at Bowlus Field, London HS
++++++++++
PIQUA, Ohio – Austin Stidham ran for a score and caught a 60-yards touchdown pass from Caden Henson on his only reception as Valley View avenged a Week 2 loss to previously unbeaten Milton-Union to win the Division V, Region 20 title. Henson threw for 204 yards and found the end zone one more time with 64 yards on the ground. Senior Stidham raised his touchdown total to 20 for the season (nine rush, eight rec, two PR, one IR). He also had an interception on defense. Classmate Jacob Clark ran for 105 yards. It was his eighth game with 100-plus yards rushing, raising his season total to 1,440 yards. Valley View is now two victories away from the schools fourth state championship and first since 1997.
SCORING BY QUARTERS
Milton-Union 0-7-0-0-7
Valley View 0-7-7-7-21
SCORING PLAYS
V: Austin Stidham 3 run (Caden Phillips kick)
M: Jordan Foose 10 run (Mason Grundich kick)
V: Caden Henson 13 run (Phillips kick)
V: Stidham 60 pass from Henson (Phillips kick)
RECORDS: Valley View (13-1); Milton-Union (13-1)
UP NEXT: Valley View vs. Ironton (14-0) at Friday November 25th, 7:00 P.M. at Jake Sweeney Automotive Stadium, Princeton Senior HS
2022 Dayton Round-Ups
Week 13: Schondelmyer shines, Wildcats roll
Week 12: Wildcats Fluster Fairmont
Week 11: It's ECC-Ya night for MVL
Week 10: Bellbrook Ekes Out 8th Straight
WEEK 8: Firebirds Stay Hot, Burn Wayne
WEEK 7: Badin Bests Alter Again
WEEK 6: Fairmont Stuns Springfield
WEEK 5: Unbeaten Elks Knockout Northmont
WEEK 4: Wildcats Ward Off Wayne
WEEK 3: Piqua Perfect, Trounces Troy
WEEK 2: Bellbrook Belts the Burg
WEEK 1: Elks Roar on Road